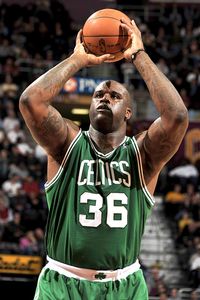 David Liam Kyle/Getty Images
The ShaqWatch continues with ailing center Shaquille O'Neal.WALTHAM, Mass. -- Celtics coach Doc Rivers said Wednesday that the team's medical staff informed him that center Shaquille O'Neal has shown "some improvement" in his recovery from a right Achilles/calf injury that has limited him to 5½ minutes of game action since Feb. 1, and suggested that if O'Neal travels with the team to New York on Thursday, it might be an indication that he could be back on the floor as early as Game 4 of an Eastern Conference quarterfinal series against the Knicks.
The team tried last Saturday before Game 1 to get O'Neal on the floor to simulate a pregame warm-up and he couldn't get through the opening running portion without experiencing soreness. They scrapped the test completely before Game 2, but remain encouraged that more time will eventually allow O'Neal to return to action.
"He's going to try to [get on the court Thursday]," said Rivers. "I just don't see it. I'm just going to be a real doctor right now and say I doubt it. He's going to try to do something [Thursday] and we'll see.
"He's had some improvement, but I don't know how much. I'm just going by what [team trainer] Eddie [Lacerte] and [team physician Dr. Brian] McKeon tell me. They thought he's had some improvement."
O'Neal has been sporting a new brace for his lower right leg, but has also walked with a noticeable limp in recent days. He stuck his head out from the trainer's room doors as media were on the court for Wednesday's availability, but quickly disappeared behind closed doors.
Rivers said he's uncertain if O'Neal will travel Thursday, but noted that the team's typical history is bringing players on the road when they are nearing a return. O'Neal traveled with the team to New York in late March, then returned to game action against the Detroit Pistons on April 3 before suffering a calf strain that immediately put him back on the shelf.
"I'm not sure yet [if Shaq will travel]," said Rivers. "It depends on what's best. If he's closer to playing -- you know how we've done it -- if you see him on the trip he's really close."
While timelines have often been extended with O'Neal, Rivers was asked flat out if he expects the 39-year-old center to play in the postseason and he reaffirmed that belief by simply saying, "Yes."
Rivers then reiterated that he didn't think O'Neal would play in Friday's Game 3, but suggested travel would be a good sign for any game after that.
"If he goes on the trip, that means we think he'll play that Sunday," said Rivers.
O'Neal appeared in 37 games for the Celtics this season, plagued by injuries to the right side of the body, particularly the knee, calf, and Achilles. On Saturday, Celtics president of basketball operations Danny Ainge and McKeon held a brief press conference stressing that O'Neal is working hard, but that time is the only remedy to alleviate the soreness that is preventing him from returning to action.