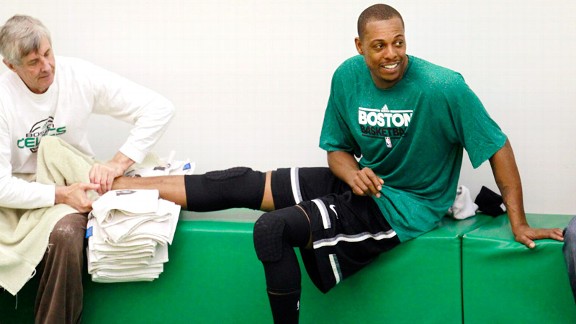 AP Photo/Steven Senne
Paul Pierce gets his troublesome heel massaged during a recent practice.WALTHAM, Mass. -- As Celtics coach Doc Rivers took his spot for a post-practice confab with the media on Tuesday, the first question whizzed in asking about the status of missing captain Paul Pierce. Rivers playfully busted the reporter's chops, asking why we always had to start on a negative topic.
Sorry, Coach. Old habits die hard.
It seems like we've been quizzing poor Rivers on health on a daily basis ever since the Celtics raised Banner 17. Whether it's been the knees of Kevin Garnett and Kendrick Perkins, or the heels of Shaquille O'Neal and, most recently, Pierce, rarely a day has gone by when Rivers hasn't been asked for some sort of medical update.
Back in the day, when the questions weren't so frequent, Rivers used to remind probing reporters that "Doc is just a nickname." Over the past four years, he's spent so much time with trainer Ed Lacerte, you wonder if he's doing a residency while working toward an actual medical degree.
But it's actually easy to understand the persistent questions on the injury status of Celtics players. Over the past four seasons, nothing has been more important to Boston's championship quests than health. And nothing has been more instrumental in derailing it.
Tip-off for the 2011-12 season is a mere five days away and Rivers expressed concern Tuesday about whether Pierce would be ready for a Christmas Day visit to New York because of a bruised right heel. What seemed like a minor ailment suffered on the first day of training camp has grown more worrisome as Pierce has been shut down yet again with the goal of getting him game-ready later in the week.
Rivers admits that, long term, Pierce's injury is not much of a concern (though the pessimist would kindly remind him that he said something similar when Shaquille O'Neal first tweaked his Achilles in February and we all know how that turned out). Let's be absolutely clear, we're not suggesting that Pierce's injury is anywhere near as severe (he worked out Monday, but woke up sore on Tuesday, forcing the team to reduce his workload with hopes of ramping him back up on Friday). But here's the point: New season, familiar line of discussion.
The 2011-12 Celtics absolutely need good health. Cap-strapped and already dealing with a heart ailment that will sideline top reserve Jeff Green all season, Boston has been limited in its ability to supplement its aging core. Extended absences, particularly to a member of their starting five, could be downright catastrophic to the Celtics in a condensed season.
Again, Rivers stressed that he's not overly concerned at the moment. But his team's health certainly something he must deal with. Asked about rotations on Tuesday, Rivers qualified his answer with, "I don't think it'll be hard once everybody's healthy."
But will everybody be healthy? Past seasons suggest that's no slam dunk.
Let's remember that last year Boston's Big Three was surprisingly healthy. Beyond one late-December scare when Garnett landed awkwardly in Detroit (and missed nine games with a right leg injury), the trio rarely left the court. In fact, Pierce and Ray Allen appeared in 80 regular-season games, sitting out only the final two for rest before the playoffs.
In fact, Rajon Rondo and Shaq were the biggest injury concerns, as well as a bench that lost its anchor when Marquis Daniels suffered a freak spine injury that nearly ended his career. Now the Celtics might be leaning on post-surgery Daniels -- whom his coach has playfully dubbed Lazarus -- to fill in for Pierce when the new season opens.
There's no need to break out those panic buttons quite yet. But health will almost certainly dictate how the Celtics fare this season. It hasn't been a great start to the new year in that regard. All of which means Rivers can expect to keep getting peppered with questions on injury statuses.
If this team can get healthy, we promise we'll stop asking.