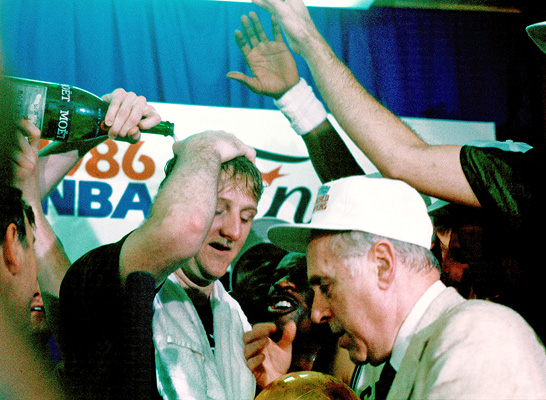 Dick Raphael/NBAE/Getty Images
Larry Bird gets a champagne shower before getting the Finals MVP trophy.Wednesday marks the 25th anniversary of Boston's 16th world title. Larry Bird produced a triple-double with 29 points, 12 assists, and 11 rebounds as the Celtics topped the Houston Rockets, 114-97, in Game 6 at the Boston Garden. Bird earned his second NBA Finals MVP in three seasons and a champagne shower for his efforts.
The 1986 Celtics lost only three postseason games, two of which came against the Rockets (the other against the Hawks in the Eastern Conference semifinals). Boston produced a three-game sweep of the Bulls in the first round, then took out the Bucks in four games in the conference finals.
Maybe our favorite thing about the 1986 Celtics: The salaries (see the snapshot from Basketball-Reference.com below). Bird made a team-high $1.8 million. The Celtics' 12-man roster as a whole earned a combined $12 million, or not even what Paul Pierce made last season ($13.9 million).
Basketball-Reference screenshot