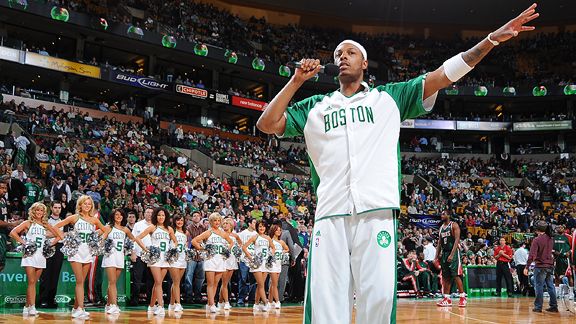 Brian Babineau/NBAE/Getty Images
Echoing the sentiments of the captain, thanks to the best fans in the world.LOS ANGELES -- As the 2009-10 season comes to its symbolic close following the Los Angeles Lakers' triumph over the Boston Celtics in Game 7 of the NBA Finals Thursday evening at the Staples Center, I wanted to take a minute to -- channeling my inner Paul Pierce before the Garden crowd in the photo above -- simply thank everyone that made ESPN Boston part of their daily Celtics routine, particularly in our first season on the block.
The best part of reporting on a team is the passion displayed by the fans and the feedback you receive from those who follow the coverage. Whether it was in this space or on Twitter or in person, it's been an absolute joy to get to know our readers and converse with you all while chronicling the Celtics on an amazing 106-game journey.
The end of the season doesn't mean the end of content in this space. Quite the opposite, in what should be a very busy offseason, we're hoping you continue to make this a daily destination. Even during the offseason lulls, we'll do our best to keep this space vibrant by looking back at the 2009-10 season (player report cards will start soon) and we'll glimpse ahead to the 2010-11 campaign (NBA Draft previews will start next week).
As always, your feedback is appreciated and encouraged. Help us shape our coverage by letting us what you'd like to see more of in this space. You can leave a comment here, or send a reply/direct message to @ESPNForsberg on Twitter.
And echoing the sentiments of Pierce, thank you again to the greatest fans in the world.