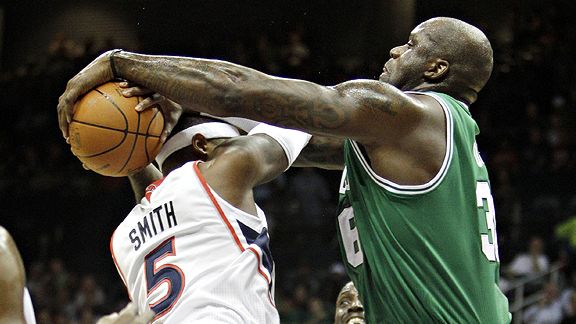 AP Photo/David Goldman
Shaquille O'Neal and the Celtics left Atlanta tied in knots.Five observations from afar after the Boston Celtics defeated the Atlanta Hawks 99-76 Monday at Philips Arena.
DEFENSE WINS CHAMPIONSHIPS
OK, it's the most overused cliché in basketball. But it is the Celtics' raison d'etre and how they view themselves first and foremost -- as a defensive team. And after laying a Brontosaurus egg on defense against the Raptors on Sundday, the real Celtics (or so they hope) showed up in Atlanta.
They dominated the Hawks from start to finish, and that is no small feat given that Atlanta entered the game as the No. 2 field goal shooting team in the NBA, averaging 49.3 percent from the field. The Celtics held the Hawks to 34.6 percent. It was, by far, the worst shooting night of the season for Atlanta; its previous low had been 42 percent. The Celtics also held Atlanta to a season-low 76 points. The previous low had been 89.
"We played defense for 48 minutes,'' Kevin Garnett said. This was a defensive tour de force, featuring Garnett completely obliterating Josh Smith (no field goals in 22 minutes) and Delonte West contributing a SportsCenter-special block on Zaza Pachulia, coming from behind to swipe the ball away from the big Atlanta center. You have to think Pachulia, who also got blocked by Marquis Daniels, was getting more than a few colorful tweets from his buddies back in Georgia. That's Georgia, as in the country, not the state.
STARTERS IN CONTROL: The Celtics' starting 5 was, in a word, overwhelming. Shaquille O'Neal had the first double-double of his Boston career, finishing with 13 points and 11 rebounds in only 21 minutes. Garnett, admitting he was upset over his play against the Raptors, had 17 points and 11 rebounds in 24 minutes. And Nate Robinson, starting for the injured Rajon Rondo for the second straight game, had 16 points and 10 assists in a shade more than 30 minutes. Robinson had only 21 assists all season before the game and, according to basketball reference.com, had not registered double figures in assists since Feb. 11, 2009, when he had 15 for the Knicks against the Clippers.
The Celtics set the tone early -- it was 20-0 in points in the paint in the first quarter -- and the 39 points scored in the period represented a season high.
The Atlanta starters might as well have taken the night off. (Oh, wait, they did.) Josh Smith and Marvin Williams each had 2 points as the five Atlanta starters combined for 27 points. Even more revealing, the five Celtics starters had plus-minus ratings ranging from Paul Pierce (plus-35) to Ray Allen and Shaq (plus-26). The best Atlanta starters? Williams and Smith were only a minus-20.
ROOKIE BRADLEY DEBUTS
A rout allows coaches to empty the bench and both Doc Rivers and Larry Drew took advantage Monday night. In Rivers' case, it meant giving No. 1 pick Avery Bradley a chance to make his professional debut. Bradley had missed the first 13 games of the season while recovering from a foot injury and, in the case of Sunday's contest, not getting in because the game was too close.
But this one was over early and Bradley played the final 6:11. He showed his defensive prowess, coming up with a steal and forcing two drives to go awry. At the other end, he was predictably rusty, missing both his field goal attempts -- badly. "Keep your head up,'' Rivers told Bradley after a botched play. Rivers thinks Bradley has a chance to be an elite defender in the league -- and that's saying something from a coach who cherishes defense over anything short of per diem.
ONE STREAK ENDED
One Celtics streak ended Sunday -- an eight-game winning streak over the Raptors. Another ended Monday -- a four-game losing streak against the Hawks. While the Celtics' underwhelming play Sunday may have had more to do with their inspiring play Monday, another factor was their play against the Hawks last season. Not only did they lose all four games to the Hawks, they lost them by an average of 8.5 points a game.
The prevailing wisdom is that the Celtics are susceptible to athletic teams and, yes, they are an older, veteran and slower team. Atlanta is not. But when the Celtics defend like they did Monday, athleticism and age are merely concepts. The Hawks still remain the best team in the league in warmups. But once the bell rang Monday, they turned into pumpkins, thanks to relentless pressure by the Boston defense.
The Celtics now have a chance to put some more distance between them and some of their division rivals, as they play the Nets and Raptors before and after Thanksgiving. Both games are in Boston.
ANOTHER BRICK IN THE WALL
Paul Pierce has now played more games as a Celtic than Larry Bird. Hard to imagine, given that Bird played in parts of three decades for the Celtics. But so has Pierce, who, lest we forget, came to Boston in 1998. Monday night was his 898th game as a Celtic. By the time this season is over, he will, health permitting, have also passed Satch Sanders and Bob Cousy to move into fifth place. And should he play 80 games, he will pass Bill Russell and move into fourth.
If he does that, he will have played 964 games as a Celtic. Kevin McHale (971), Robert Parish (1,106) and John Havlicek (1,270) will still be ahead of him with McHale easily in reach for the following season (lockout permitting). Parish may even be catchable, but the incredibly resilient and durable Havlicek may be hard to pass.