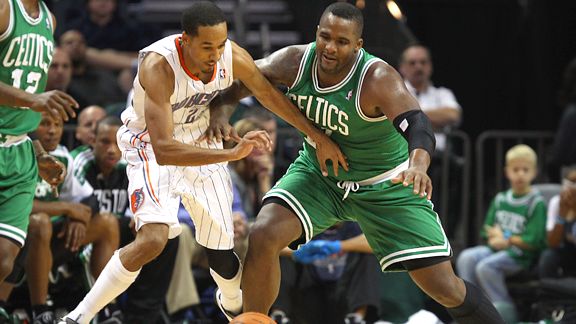 Streeter Lecka/Getty Images
Glen Davis and Shaun Livingston chase a loose ball.First impressions from afar after the Boston Celtics defeated the Charlotte Bobcats 93-62 Saturday evening at Time Warner Cable Arena in Charlotte, N.C.:
HOW THE GAME WAS WON
The Celtics shot a season-worst 43.7 percent (31-of-71 overall from the floor), but it hardly mattered. Ray Allen overcame 4-of-11 shooting to score a team-high 16 points (matched by Glen Davis), while Kevin Garnett chipped in a double-double (13 points, 11 rebounds) over just 23 minutes. The Bobcats shot a gruesome 33.8 percent (24-of-71 overall), committed a whopping 20 turnovers (leading to 21 points), and helped Boston post their best defensive outing of the season (New Jersey's 75 points on Sunday a previous opponent low).
TURNING POINT
The Celtics boasted a 10-point cushion coming out of halftime and, after Charlotte danced within seven, Boston embarked on a 14-4 run that put the Green out front, 58-41, with 3:14 to play in the third quarter (allowing the mop-up squad to take over the dance floor in the fourth frame).
STAT OF THE GAME
Charlotte missed 10 3-pointers (1-of-11 overall) and 10 free throws (13-of-23 overall). All-Star Gerald Wallace missed 13 total shots (2-of-15 overall), while D.J. Augustin missed all eight shots he put up in a scoreless night as part of a cringe-worthy outing for the hosts.
UNSUNG HERO
Semih Erden drew his second consecutive start and registered 10 points, seven rebounds, four blocks, and a ridiculous plus-35 in the plus/minus over a career-high 40 minutes.
WHAT IT MEANS
Style point have rarely been Boston's thing and this one certainly won't get top billing in the season scrapbook. But it was a 31-point blowout and a nice way to ease the Green into a three-day break. The Celtics have now won 10 in a row and are 2-0 to start this little three-game-in-seven-days road trip that culminates against the Knicks Wednesday at Madison Square Garden.