The fine folks at ESPN Stats and Information passed along three statistical nuggets after the Boston Celtics defeated the New York Knicks 118-116 Wednesday night at Madison Square Garden:
AMARE IS NOT A GOOD ISO DEFENDER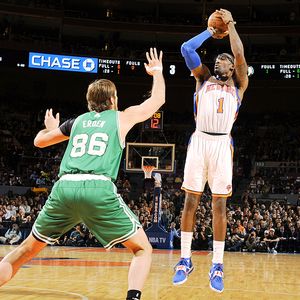 Lou Capozzola/NBAE/Getty Images
New York's Amare Stoudemire shoots over Boston rookie Semih Erden Wednesday.Celtics coach Doc Rivers lamented when his team ran a pick-and-roll and got a switch during Boston's final possession. Paul Pierce was initially matched up with the undersized Raymond Felton and Rivers thought he had a better chance of getting a shot off against him than the 7-foot Amare Stoudemire that switched onto Pierce. But not only did Pierce like that matchup, the stats heavily favored Boston as well.
Stoudemire has struggled this season guarding isolation plays, allowing opponents to shoot 50.9 percent when he is the isolated defender. Stoudemire ranks as the Knicks' worst isolation defender and is in the bottom 20 in the league in terms of opponent field goal percentage on isolation plays.
KNICKS STILL BETTER WITH AMARE ON THE COURT
While Stoudemire might not be a great isolation defender, the Knicks were clearly a better team with him on the court Wednesday than when he was off. Boston outscored New York by 11 when Stoudemire rested, helping them emerge with the win.
During Stoudemire's 42:19 of court time, the Knicks were 40-of-74 shooting (54 percent) and plus-9 overall. With Stoudemire on the bench for 5:41, New York was a mere 3-for-7 shooting (42.9 percent) and the minus-11 overall. Stoudemire finished 15-of-22 shooting for 39 points, his ninth consecutive 30-point game.
FACILITATORS OF EASY BUCKETS
Celtics guard Rajon Rondo and Knicks guard Raymond Felton each had seven assists on field goals from within 5 feet of the basket during Wednesday's game and both remain at the top of that category across the league.
Rondo is tops in the NBA with 129 assists produced within 5 feet of the basket, while Felton is second at 122. Steve Nash is third at 111.