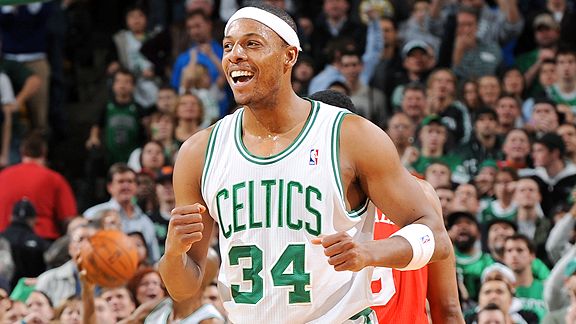 Brian Babineau/NBAE/Getty Images
Paul Pierce overcame early struggles to help the Celtics to their 14th straight victory.Another close win Wednesday gave the Celtics 14 straight. After all, grinding out victories is what good teams do:
BOSTON -- The Boston Celtics haven't lost in more than a month, boast an NBA season-best 14-game winning streak, and easily own the best record in a loaded Eastern Conference.

If only they could enjoy it.

On a winning streak best described as "gritty," the Celtics have won nearly half their games by single digits. Gino, the American Bandstand dancer who gyrates his way through the final moments of lopsided home triumphs, has been spotted only once during the streak (Dec. 3 versus Chicago), and coach Doc Rivers spends most of his free time trying to generate possible lineup combinations for a rotating cast of available bodies.

"It's not very enjoyable because, you've got so many guys [injured], you're just trying to figure out a lineup on the floor," Rivers said after Boston's scraped through an 84-80 triumph Wednesday night over a Philadelphia 76ers squad that lost by 45 points the night before.

"It is [the oddest streak] as far as I've been connected with. Usually when you're on a streak, everybody is healthy, everybody is playing well, and you're rolling. You can make the case it's the exact opposite with us."

Health? The Celtics played Wednesday without Rajon Rondo (ankle sprain), Kendrick Perkins (ACL surgery), Jermaine O'Neal (sore left knee/flu), and Delonte West (fractured right wrist). During the course of its winning streak, Boston has also been without Shaquille O'Neal (calf), Semih Erden (groin), Nate Robinson (foot), and Glen Davis (illness) for at least a portion of games.

Playing well? The Celtics shot a season-worst 38.8 percent Wednesday, going a gruesome 31-for-80 overall from the floor (this from a team that shoots a league-best 51.2 percent, with its closest competition three percentage points away). What's more, the Celtics were plagued by foul trouble and endured two technical fouls (Paul Pierce and Kevin Garnett) for yapping at officials on what Pierce later dubbed, "one of the most frustrating games in a long time."

Rolling? Sure, Boston has won 14 in a row, the longest streak in an NBA season decorated by winning patches (including 12-game streaks by the Spurs, Mavericks and Heat). So while Rivers can't always savor it, the bottom line is they don't seed the playoffs based on style points.

"We're finding ways to win, any kind of way, and that just shows the versatility of the team this year," Pierce said. "We've won games in the 100s, we've won games in the 80s, and we're finding ways to grind it out because we don't have the healthy bodies, and you don't know who's going to be in there, night in and night out. So we've got to win differently every night. That's the way it's going to be."
Click HERE to read the full Daily Dime.
Good teams win games they shouldn't, like Boston's victory over the 76ers, writes Peter May:
BOSTON -- Paul Pierce had that feeling. No, not the one in which he's sure everything is going in and he radiates heat. This one was the one in which he was sure he had stolen something -- and lived to tell about it.

"Sometimes it's good to sneak one out,'' Pierce said as he romped down the corridor leading to the Celtics' locker room after Boston's 84-80 victory over the Philadelphia 76ers on Wednesday night at TD Garden.

Following right behind him, a team official quipped, "This is a present under the tree."

Indeed it was. The Sixers, the same group who had been vaporized the night before in Chicago 121-76, deserved a better fate in this one.

They held the Celtics to a season-low in shooting percentage -- by a significant margin. They held the Celtics to 84 points, matching Boston's season-low in points.

They were aggressive, nearly sending commentator Tommy Heinsohn into cardiac arrest with a 31-21 advantage in free-throw attempts (it was 29-7 after three quarters.) They held their own on the boards, turned it over only 13 times and had two chances to tie the game in the final minute.
Click HERE to read the full story.