BOSTON -- Fresh off his finest night as a pro, Luke Harangody was quickly reminded of his rookie status by his Boston Celtics teammates following Friday's 122-102 thrashing of the Toronto Raptors at TD Garden.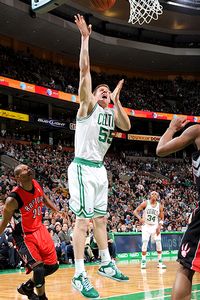 Brian Babineau/NBAE/Getty
Luke Harangody showed skill on both offense and defense Friday with 17 points and 11 rebounds.Harangody, a postgame guest on the Celtics' radio network, was dishing about a night of firsts -- his first career double-double (17 points, 11 rebounds), his first NBA 3-pointer and hitting his first five shots to pace Boston to a lopsided halftime lead -- when he was dragged back to the locker room.
Unfortunately for Harangody, no one was waiting there with a game ball.
Instead, Harangody joined fellow rookies Avery Bradley and Semih Erden in the latest not-so-enthusiastic rendition of "Happy Birthday," this performance in honor of teammate Marquis Daniels turning 30.
"This is just one game; nothing's changed," Harangody said later while drawing the biggest media crowd of the night (much to the delight of captain Paul Pierce, who gleefully passed his typical postgame media chores to the rookie). "My role is always defense and to go out there and rebound. I'm going to do that first and foremost."
To be sure, Harangody did both of those things Friday night. Caught defensively in a third-quarter pick-and-roll, he produced one of the highlights of a somewhat perfunctory second half by chasing down Toronto's Ed Davis from behind and swatting a layup attempt.
The 6-foot-8 Harangody was also active on the glass, leading his team in rebounding against an opponent that had dominated Boston in three previous regular-season meetings. Harangody mixed four offensive rebounds with seven defensive caroms while hauling in nearly a quarter of the Celtics' 43 boards.
But don't be fooled. It was his offense that ultimately allowed him to thrive, a couple early buckets letting him simply play his game for the first time all season.
"The one thing he is not is shy; I think he was [shy] in all of a half a second and [then] he took a shot," joked Celtics coach Doc Rivers. "The whole bench started laughing because that's who he is. And we want him to stay that way."
Click HERE to read the full story.