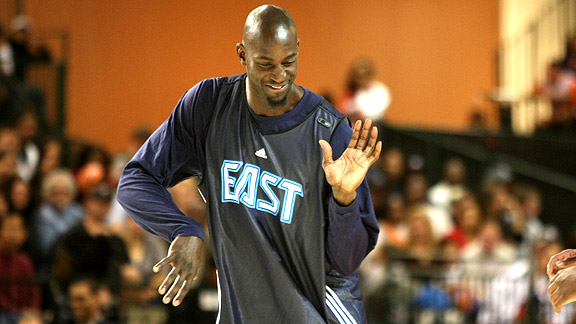 David Sherman/NBAE/Getty Images
Kevin Garnett: Rhythm is a dancer.BOSTON -- The way Kevin Garnett sees it, the Garden parquet is one big dance floor and he's just busting a move at the party.
Asked after Wednesday's win over the Detroit Pistons to describe how he feels after two games back, Garnett compared finding his rhythm on the court to finding his groove at a party with a faulty turntable.
"One thing about rhythm is, it's almost like, for y'all that can dance -- and for y'all that cannot, don't worry about this -- but it's like being at the party and the record skips, and you've got to get back on beat," explained Garnett. "So, you know, the record skipped a bit, but I'm still at the party. I just have to find that groove again. For all of y'all who can't dance, don't take it personal."
Garnett scored 19 points on 7-of-13 shooting with eight rebounds in his return during Monday's win over Orlando. On Wednesday, he connected on just 5-of-14 shots for 11 points with six rebounds, three assists, and a block.
"I'm good, I was a little anxious [Wednesday], man," said Garnett. "I really, really knew the ball was going to come to me a lot. I just need to take my time."
Garnett has shown no ill effects from the right calf strain that sidelined him for nine games, but he expects better production when he gets back on beat. But he's positive he'll get there because he's not afraid to tell you he can dance.
When a reporter joked that media members taught Gino, the American Bandstand dancer that cuts the JumboTron rug during lopsided Boston home wins (as rare as those have been this season), everything he knows, Garnett played along saying, "Who? Raise your hands. I don't see no hands."
And as Garnett and captain Paul Pierce left the podium following their postgame press conference, Garnett took a final jab at a media horde filled with two left feet, shouting, "Learn to dance!" as he left the room.