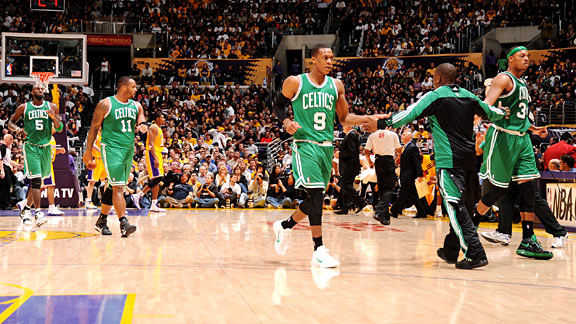 Noah Graham/NBAE/Getty Images
Rajon Rondo called a perfect game, according to Celtics coach Doc Rivers.Sunday's tilt against the Los Angeles Lakers served as the third game of a difficult four-game Western Conference road swing for the Celtics, and at the half, with Boston trailing by four, it was shaping up to be another so-so game for Rajon Rondo.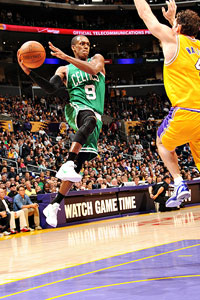 Andrew D. Bernstein/NBAE/Getty
Rajon Rondo drives and looks to dish Sunday against the Lakers.In the first two contests of the trip, against the Portland Trail Blazers and Phoenix Suns, Rondo had tallied a mere 11 assists, good for his lowest total in back-to-back games this season. After 24 minutes against the Lakers, Rondo had recorded only four points, and, more importantly, one assist, well off his league-leading pace of 12.6 dimes per game.
Fortunately for Rondo and the C's, there were still 24 minutes of basketball left.
By the time the final buzzer sounded, Rondo had registered 10 points and his assist total had skyrocketed to 16, making it the ninth time this season he's either reached or surpassed that number in a single game.
According to ESPN Stats and Info, in the first half, Rondo, by way of scoring or assisting, had a hand in creating only six of the Celtics' 50 points, which measures out to a mere 12 percent of the team's first-half output. In the second half, with Rondo posting six points and 15 assists, he was credited with creating 43 of Boston's 59 points, good for a whopping 72.9 percent.
Rondo's second half was instrumental in the Celtics ending up with a 109-96 victory, but before he takes all of the credit, he needs to give an appreciative nod to Paul Pierce, whose own 32-point outing against the Lakers greatly influenced the night Rondo ended up having.
Pierce was Boston's offensive catalyst in the first half, scoring 16 points before the intermission. He was the Pierce of old, commanding the ball while effectively creating shots for himself along the perimeter against the woefully ineffective Ron Artest.
"Paul was great," said Celtics coach Doc Rivers. "I thought Paul held the fort for us in the first half. We were struggling a little bit and he kind of kept us going."
Pierce would total that same number of points in the second half, but rather than continuing to try and create for himself, he played off the ball more frequently, allowing Rondo to step in and dictate the Celtics' offense for the remainder of the game.
According to ESPN Stats and Info, 12 of Pierce's 16 first-half points were scored off the dribble, while in the second half he scored 11 of his 16 on catch-and-shoot opportunities.
During a five-minute stretch midway through the third quarter, Pierce scored 14 of Boston's 16 points, and four of the five baskets were assisted on, with Rondo serving as the man behind three of those. Overall, for the second half, Rondo assisted four of Pierce's six made baskets, compared to the first half in which his lone assist came on only one of Pierce's five buckets.
Pierce might have played differently in the second half, but he was certainly no less effective. After routinely putting his would-be defenders in Artest and Luke Walton to shame, the Lakers were forced to make a very important shift on the defensive end. Seemingly out of options, Lakers coach Phil Jackson had to move Kobe Bryant to the small forward position to match up with Pierce and help try to stymie his offensive outbursts.
Bryant had spent considerable time guarding Rondo in the first half -- sagging off of him and daring him to shoot -- which undoubtedly played a role in Rondo's slow start. Once the switch was made, however, Rondo found himself matched up against the likes of Shannon Brown, Derek Fisher, and Steve Blake, and it wasn't long before a much more assertive and vocal Rondo emerged.
"We knew we could run on L.A.," said Rondo. "Obviously Phoenix, they're a running team, so we can't outrun those guys, but L.A., we figured, given their personnel, [that Boston could outrun them]."
Rondo rattled off seven assists in the third quarter -- three of which came on his club's final three buckets -- as Boston assumed a five-point lead heading into the fourth quarter.
The Celtics closed out the Lakers in the fourth by shooting 14 for 20 from the field, and Rondo recorded assists on eight of those 14 baskets. On top of his passing, Rondo also contributed four points, blowing by Blake for a layup early on, and then cutting quickly and sneaking away from Fisher for an easy layup later in the quarter.
Rondo helped deliver two of Boston's final blows late, first tossing Kevin Garnett an alley-oop in transition, and then, a minute later, finding Ray Allen on the break for an open 3-pointer on the left wing. They were Boston's only fast-break points of the game, and they gave the Celtics a decisive 12-point advantage with three minutes to play.
"I told Rondo in front of the team that I thought it was one of his best games of the year in the fact that I thought he called an absolutely perfect game," said Rivers. "He's our [catcher] and I thought he just called a sensational game. Coming out of timeouts he made sure guys were in their spots. The biggest change we made [was] we got the ball to him on misses, instead of outletting it to other guys. We just kept saying it every timeout: 'Find Rondo. Stop coming back to the ball. Run out, and he'll find you, and just trust that.' And I thought Rondo tonight played with a great speed. When he plays with speed he has power and I thought he did that tonight."
Greg Payne is a student intern for ESPNBoston.com