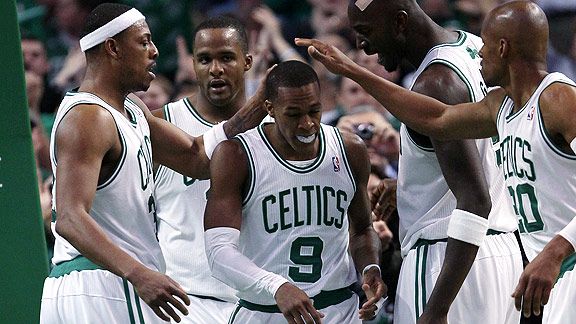 Elsa/Getty Images
Rajon Rondo runs the pat-on-the-back gauntlet.BOSTON -- Everything you need to know after the Boston Celtics defeated the Orlando Magic 91-80 Sunday afternoon at the TD Garden:
Rapid Reaction | Game Recap | Box Score
--FORSBERG: RONDO RETURNS TO ATTACKING WAYS--
Rajon Rondo is likely to wake up Monday morning in Charlotte feeling like he played in Super Bowl XLV. In attacking the basket with renewed vigor during a Super Sunday appetizer against the Orlando Magic, Rondo spent much of his night bouncing off the unforgiving parquet floor, Dwight Howard serving as the oft-unblocked linebacker to Rondo's stand-in-the-pocket quarterback. Rondo's reward for those bumps and bruises? A season-high 26 points that sparked the Boston Celtics to a 91-80 triumph at the TD Garden in the third and final regular-season battle of last season's Eastern Conference finalists.
--MAY: CELTICS GET UNDER THE MAGIC'S SKIN--
Quentin Richardson got a lot of feedback last spring, most of it positive, he said, when he called out Kevin Garnett and Paul Pierce for being good "actresses" during the Boston Celtics' first-round series with the Miami Heat during last season's playoffs. Richardson has moved upstate to Orlando, but while he has changed addresses, he hasn't changed his view on the two Celtics. On Sunday, after the Magic fell 91-80 in a game that qualified as eye pollution most of the time, Richardson revisited his comments from last spring. Well, sort of. "I'm not going there again," he said,
--PAYNE: C'S RALLY AROUND INJURED DANIELS--
For a team as close-knit as the Celtics, an injury to any player on the roster is enough to weigh heavily on the minds of teammates and take their focus away from the game at hand. But when Marquis Daniels suffered a bruised spinal cord during the second quarter of Sunday's 91-80 triumph over the Orlando Magic at the TD Garden, players rallied around each other and soldiered on.
More links from ESPNBoston.com's coverage:
* Postgame notes: 'Dwight couldn't beat us by himself'
* Pregame notes: Shaq out through All-Star break?
* Daniels suffers bruised spinal cord; out indefinitely
* Snapshot: Bradley recalled to Boston after Daniels' injury
Video Vault
Click HERE to watch all the video from Monday's game.
Tweet of the Night