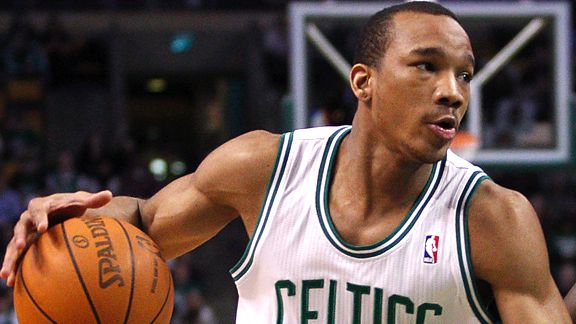 Mark L. Bae/US Presswire
Avery Bradley went from the D-League to playing D on Kobe Bryant.For Celtics guard Avery Bradley, the last several days have shown him just how quickly an NBA rookie's circumstances can change.
One minute you're playing in the D-League, the next you're playing D on Kobe Bryant.
Last Saturday, he found himself in Bismarck, North Dakota, on assignment in the NBA Development League with the Celtics' affiliate, the Maine Red Claws. Playing in his ninth game for Maine, Bradley registered 22 points, seven rebounds, and six assists in his team's 142-100 defeat.
The very next day, Bradley was recalled by Boston, in the wake of reserve swingman Marquis Daniels suffering a bruised spinal cord in the second quarter of the Celtics' 91-80 victory over the Orlando Magic. Bradley rejoined his professional teammates down in Charlotte, North Carolina on Monday, February 7, in time for the club's tilt with the Bobcats, although he didn't log any minutes on the floor.
On Thursday night, back in Boston, Bradley was called into action against the Los Angeles Lakers with just over a minute left in the third quarter, due to Nate Robinson's absence because of a bruised right knee and Ray Allen and Von Wafer dealing with foul trouble. Bradley's task: Defend Bryant. No big deal, right?
The whole experience lasted a little over a minute for Bradley, who found himself back on the bench at the start of the final frame, but it capped off a near seven-day readjustment process that had to feel like something of a whirlwind for the first-year Texas product. One day he's trying to serve as a leader of a young Maine squad, and five days later he finds himself standing between Kobe Bryant and the basket. After the game, Bradley maintained that he had to be prepared to play, while also admitting that he enjoyed going up against one of the NBA's best offensive players, if only for a few moments.
"I mean, being on this team, with these good players, you just learn so fast, just being ready whenever your name's called," Bradley said. "So, I mean, you're nervous, but at the same time, you feel so comfortable being out there with those guys and they play so hard that they make you look comfortable. It was fun, I mean, guarding Kobe Bryant, of course, for the little time I did it. It was fun."
"[Bryant]'s tough. Even just watching him on the sideline, just the things he does. He knows the game so well. He's just a great player."
Greg Payne is a student intern for ESPNBoston.com