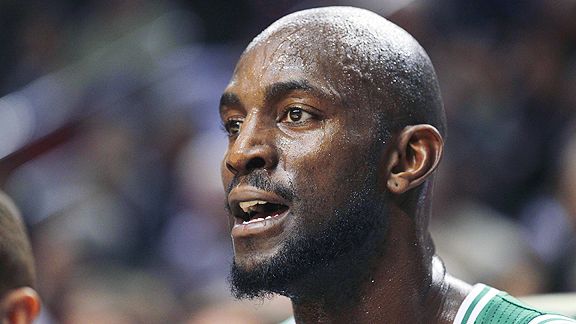 AP Photo/Rick Bowmer
Kevin Garnett is aware that he needs to be more selfish with the ball.Kevin Garnett is most often lauded for his value to the Celtics on the defensive end of the floor, and for good reason. Without Garnett anchoring the middle, Boston will not win another championship.
What gets lost in the shuffle of that praise, though, is just how valuable Garnett can be to the Celtics at the other end of the court. The man who took home the Defensive Player of the Year award during his first season as a Celtic is also a member of the NBA's exclusive 20,000 career point club. But Garnett is a self-proclaimed team guy, and despite his obvious talents on the offensive end of the floor, he's always been willing to defer to his teammates over the course of his career.
That mindset still exists for Garnett today, but in an interesting twist, his current teammates simply aren't as interested in his willingness to share the ball. Instead, the likes of Rajon Rondo, Paul Pierce, and Ray Allen have all demanded that Garnett be more selfish with the rock, since an aggressive Garnett on offense typically spells out good things for Boston. Take Tuesday night for example, when Garnett posted a team-high 24 points on 11-of-16 shooting as the Celtics defeated the Golden State Warriors, 115-93, marking their first victory in Oracle Arena in seven tries.
"We told [Garnett] before the game, 'Early offense and we're going to you every single time we can,'" said Celtics coach Doc Rivers told reporters after the victory. "We thought that was an advantage for us. It was funny, our guys, they were on him. They kept telling him to shoot. You know Kevin, he takes two in a row, he'll pass the next three times, and so they just kept saying, 'Go. Keep going,' and it was great to see him do that."
Garnett's 24 points were just two shy of his season-high of 26 that he set back on Nov. 26 in a 110-101 victory over the visiting Toronto Raptors. His 16 field goal attempts on Tuesday night tied Allen for a team high in that category and were the most he had taken since Feb. 4 in a loss to the Dallas Mavericks.
The Celtics' game plan to find him early against Golden State was executed to near perfection, as Garnett buried five of his six first-quarter field goal attempts -- a quartet of jump shots and a finger roll inside off of a feed from Rondo -- to match Rondo with a team-high 10 points at the end of the first frame. He added four rebounds and two assists to his first-quarter totals.
Garnett finished with impressive shooting numbers from two key areas on the floor last night: At the rim, and from 16-to-23 feet. According to HoopData, Garnett converted all three of his field goal attempts taken at the rim (the aforementioned finger roll, a second-quarter right-handed dunk off of a baseline feed from Rondo, and a putback off an Allen miss in the third frame), and six of his nine attempts from 16-to-23 feet. Garnett's efficiency from that range is imperative, since he is averaging his highest number of field goal attempts from those distances (4.8 shots per game) this season.
Garnett admitted after the game that he's ready to embrace a more aggressive mindset on the offensive end for the remainder of the season. He'll help to shoulder more of a load that has fallen largely on the shoulders of Pierce, Allen, and Rondo thus far. From a matchup standpoint, an aggressive Garnett can decimate opponents, with his ability to pick-and-roll, pick-and-pop, post up on the block, or simply knock down the open 17-footer from virtually any spot on the floor when defenses collapse on slashers.
His versatility might be his biggest strength, and if he ever finds himself in a situation where he's up against multiple defenders, he can always fall back on his instinctive nature to find an open teammate. For now though, the Celtics are ready to embrace a Garnett who will hopefully channel a shoot-first mindset, particularly when he's in close proximity to the rim.
The stats also show that the Celtics have been very successful when Garnett's aimed a high number of shots at the basket. This season, the Celtics are 7-2 when Garnett attempts at least 15 field goals. The Celtics have seen firsthand what an offensive-oriented Garnett can do for their winning percentage. In last year's Eastern Conference semifinal matchup with the Cleveland Cavaliers, Garnett, who had yet to fully recover from knee surgery the previous season, served as a key offensive force against the overmatched Antawn Jamison. Garnett averaged 18.8 points per game against the Cavs, taking an average of 16 field goal attempts per game in the process, as the Celtics closed out the series in six games. Over the final three games of the series (all Celtics wins), Garnett averaged 14.6 field goal attempts and 19.3 points per game. Rondo was labeled the series' best player, but it was Garnett who consistently served as an offensive rock for Boston.
Offensively, it was Garnett's most productive series of the entire postseason, as his field goal attempts dropped to 12 per game in the Eastern Conference finals against the Orlando Magic, and only rose slightly to 12.4 in the NBA Finals against the Los Angeles Lakers.
Whether Garnett can fully ignore his instincts as an unselfish player and maintain this aggressive mindset on the offensive end remains to be seen. Being on this team helps, though, seeing as his teammates aren't looking for the passive Big Ticket. Instead, they want the assertive one. Time will tell if Garnett is willing to oblige.
Greg Payne is a student intern for ESPNBoston.com