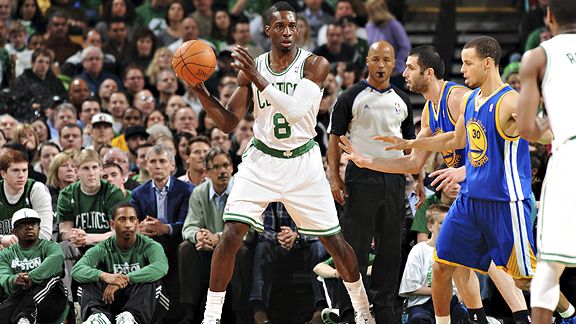 Brian Babineau/NBAE/Getty Images
With Glen Davis sidelined, Jeff Green joined Boston's crunch-time lineup Friday.BOSTON -- When the Celtics acquired Jeff Green at the trade deadline a little over a week ago, head coach Doc Rivers immediately gushed over the prospect of his new 6-foot-9 weapon fitting into a James Posey-like role during key moments of games.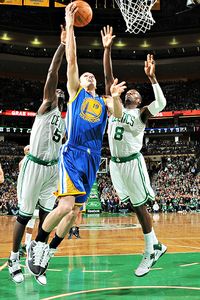 Brian Babineau/NBAE/Getty
Jeff Green and Kevin Garnett try to stop this drive to the rim.Much like Posey during the 2007-2008 championship season, Green is versatile enough to log time at the power forward position, potentially creating a number of matchup problems for opposing teams when he's on the court with the likes of Rajon Rondo, Ray Allen, Paul Pierce, and Kevin Garnett. But it wasn't enough that Posey could simply fill that role, it was that he could excel in it, particularly during the fourth quarters of important games. Not only did Posey's versatility make the Celtics a difficult team to combat on the offensive end, but a certain chemistry always appeared to be brewing between him and the other four usual starters, and even the likes of reserve guard Eddie House.
Green can appropriately be compared to Posey from a versatility standpoint, but if the Celtics hope to replicate the past success of the Posey-filled lineups with Green, that sense of chemistry needs to be present. Entering Friday's tilt with the Golden State Warriors, Green had played in three games for the Celtics, and each of those games was relatively close down the stretch. Yet with Green still adjusting to his new surroundings, Rivers stuck with Glen Davis as his power forward in the final few minutes -- a lineup decision he has made many times this season.
But Davis missed Friday's game with a left patella tendon strain, leaving the door open for Green to play the closing minutes. The Warriors clawed back from an 18-point deficit to make things competitive down the stretch and Rivers chose to go with his new versatile lineup for the first time in crunch time, as he inserted Green alongside Rondo, Allen, Pierce, and Garnett.
"I mean, obviously he's going to be playing some minutes with us," said Rondo afterward. "I think it was good for him. That's something that's going to help our chemistry, on-the-court action, down the stretch in the fourth quarter, and also in the first half."
Having already played a handful of fourth-quarter minutes, Green checked back in with 4:43 remaining in the game and the Celtics clinging to a seven-point advantage. Monta Ellis nearly ruined the debut of Rivers' new unit within minutes, as he buried back-to-back 3-pointers and forced Green into an offensive foul -- his fifth of the evening.
Rivers kept Green in the game, and even though Green was supposed to help this unit shine on the offensive end, his greatest contributions in the waning minutes came on the other side of the ball, which is something you won't hear these Celtics complain about.
With 2:35 to play, Golden State's David Lee drove down the middle and it was Green who stepped in with his hands raised straight into the air and contested Lee's shot without committing his sixth foul. Lee bricked the shot and Green hauled in the defensive rebound to finish off the play.
The Celtics' next two plays resulted in a Pierce turnover and a missed jump shot from Rondo, which left the door open for the Warriors to tie things up with a little over a minute remaining. Golden State guard Stephen Curry received the ball in the left corner, but Pierce closed out on him before he could rifle off a potential lead-changing 3-pointer. Curry drove baseline, and as he was cut off by the help defense of Rondo, he tried sneaking a pass into the paint to teammate Dorrell Wright. But it was Green who backed off his own man, Reggie Williams, and sneaked into the lane to intercept Curry's pass.
Green handed the ball off to Rondo to start the fast break, and Rondo eventually found a cutting Pierce with a slick one-handed bounce pass through the paint for a layup on the left side, which restored Boston's lead to four with a minute and a half to play.
Allen acknowledged afterward that it was "big" for Green to experience his first late-game minutes in a close contest with the Celtics.
"He seems comfortable. He seems very comfortable," said Allen. "He's not a guy that is shell-shocked by what's going on out there on the floor. He fits right in and he just plays the game. He's a basketball player."
Green eventually fouled out with six seconds to play after getting tangled up with Warriors forward Vladimir Radmanovic while going for a rebound, but not before the Celtics' 107-103 victory was all but guaranteed.
Green finished Friday's tilt with 21 points off the bench, but more importantly, showed that the Celtics can utilize his talents down the stretch alongside the club's four All-Stars. This group might not yet be with Green where it was with Posey three seasons ago, but the late-game scenarios, like the ones seen on Friday, will serve as the building blocks as that sense of trust and understanding continues to develop.
Securing a win the first time around certainly won't hurt matters, either. After the game Green acknowledged that it's "important to get a groove with [the four starters]," and having 22 games remaining on the schedule should present enough down-to-the-wire scenarios for that comfort level to develop more fully between these five players. Garnett understands the importance of these late game situations, since they cannot necessarily be replicated in practice.
"It was good," Garnett said of having Green on the floor in the final minutes. "It was good from the standpoint of not only reps, but him being in the crucial games with us, experience, things like that. You can't teach that in practice. You can't simulate that. Real games call for real reactions and they're a tough team. Golden State's always been labeled unorthodox, they've always been labeled [as a team] that tests every principle that you have as far as defensively. They're going to test it. They went small, Ellis got some real good looks. He was hot, he was early, and they wanted to push the tempo. I thought we just sustained."
Greg Payne is a student intern for ESPNBoston.com