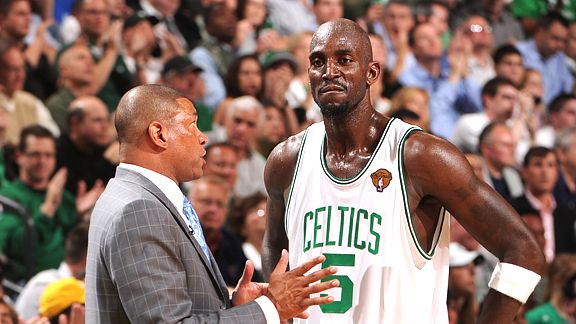 Andrew D. Bernstein/Getty Images
Doc Rivers doesn't have a lot of big men to lean on behind Kevin Garnett.The Boston Celtics are short on big men right now, but now is not their concern. Staying healthy for the playoffs is:
--BIGS PROBLEM IS SMALL TO CELTICS--
It's a line that could have just as easily been uttered after Game 7 of the 2010 NBA Finals. Boston Celtics coach Doc Rivers glanced at the box score after Wednesday's loss to the Los Angeles Clippers and declared a need for one more big man. "Just one extra big is all we needed," Rivers said. "But we don't have it with the injuries. This has nothing to do with the [Kendrick Perkins] trade or anything; we just don't have healthy bigs. Hopefully [Glen Davis] will be back soon."