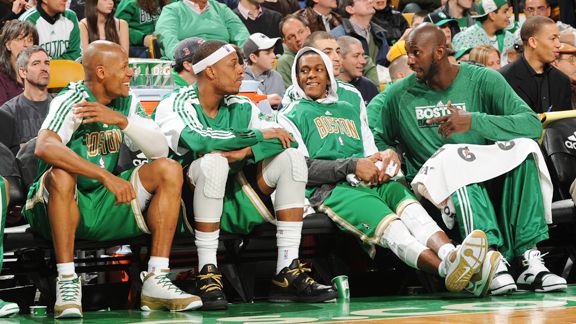 Steve Babineau/NBAE/Getty Images
The Celtics' Big Four enjoyed a breezy night against the Bucks.The Celtics' record-setting defense did the team lots of good with Sunday's thrashing of the Bucks, including quieting murmurs of trouble:
--FOR CELTICS, GOOD THINGS START WITH D--
To say Sunday's defensive lockdown of the Milwaukee Bucks was exactly what the Boston Celtics needed would be an understatement. Boston had lost back-to-back games, watched the Chicago Bulls pull even atop the Eastern Conference standings, was limping along with a 10-man roster (with five of those faces new arrivals), and was openly expressing frustration about struggles at both ends of the court. Aided by the return of top reserve Glen Davis, the Celtics essentially rewrote the defensive section of their record book, establishing new marks for fewest points allowed in a half (22), three quarters (38) and a game while sashaying to an 87-56 win over the Milwaukee Bucks that -- even if just temporarily -- stopped the bleeding and thrust Boston back into sole possession of first place in the East.
Check out the full story for plenty other benefits, including Glen Davis getting reacclimated, Troy Murphy gaining some confidence, and Rajon Rondo earning some much-needed rest.
* Bonus Link: Daily Dime: Celtics hold first with help of newcomers