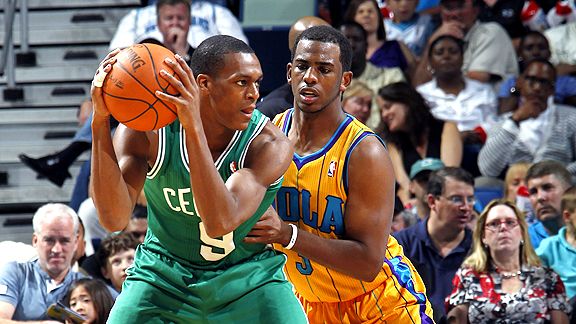 Layne Murdoch/NBAE via Getty Images
Rajon Rondo is getting back on track after Saturday's win in New Orleans.Rajon Rondo showed signs of snapping out of his funk as the Celtics bounced back from Friday's ugly loss:
--MacMULLAN: RONDO ROUNDING INTO FORM--
The smile came easily on Saturday night. That's progress, Rajon Rondo figures. The grin was in response to a query regarding his modest success in knocking down some open jumpers against the New Orleans Hornets. "That was good," he said. "We needed it. I needed it." It was of little consequence to Rondo that when the Boston Celtics finally stopped scuffling and ripped off an 21-6 run that catapulted them to an 89-85 win over the New Orleans, he was on the bench, nursing a pinky injury that caused his hand to go numb.
Later, Rondo opens up about his recent struggles, that nagging pinky injury, and moving on after the Kendrick Perkins trade:
"It's a mix and match of things. I haven't been playing well. Aches and pains. And we had the trade with Perk [Kendrick Perkins]. He's a guy I spent a lot of time with. I'm not saying that's why I'm playing bad. You just appreciate somebody more when they're gone. We were best friends. We're talking more now than we did when he was here. It's been tough. I know other guys have been through it, but I haven't. We went through everything together, right from the beginning. I missed the USA basketball camp so I could be at his wedding. When we were on the road, there was never any question we'd be hanging out together. It was 'What are we going to do tonight?' or 'Let's go here and there.' So now it's a little different. I'm not saying I'm no lost puppy. He didn't die or anything. But he's a good person."