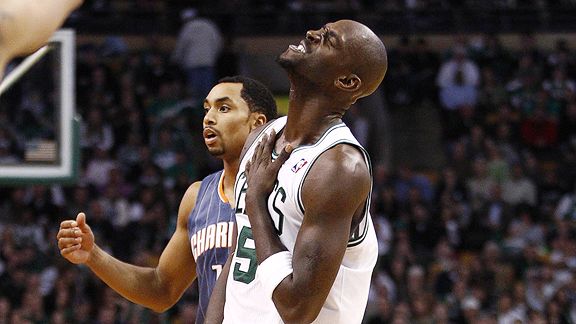 Mark L. Baer/US Presswire
As Kevin Garnett displays, Friday's loss to the Bobcats hurt.After the Celtics' dreadful loss to the Bobcats, coach Doc Rivers had nothing to say to his team, but lots to say to the media -- none of it good:
--RIVERS 'SHOCKED' BY CELTICS' ATTITUDE AND PLAY--
Celtics coach Doc Rivers acknowledged Friday that he probably screams more than most would imagine, but needing to motivate his team yet again, he decided against reaching into the toolbox for the "angry" folder after the Celtics endured their most embarrassing loss of the season with a pathetic effort in an 83-81 defeat to the Charlotte Bobcats at TD Garden. Instead, Rivers said he walked into the locker room, told his troops the practice time for Saturday, then left them to their own devices. He saved his harshest words for the interview room, knowing full well the message will find its way back to his players without him having to shout in their faces. How the Celtics respond this time is almost completely on the players.