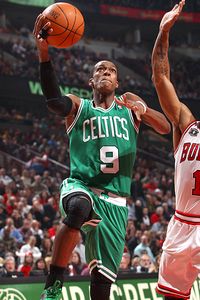 Gary Dineen/NBAE/Getty Images
Rajon Rondo and the Celtics are frustrated by their inconsistencies.After Thursday's loss to the Chicago Bulls, Celtics point guard Rajon Rondo suggested that Boston can't expect to flip the postseason switch like it did a year ago (emerging from a fourth seed to come within a game of winning another world title). But he's not the only one who believes that, as Celtics coach Doc Rivers echoed his sentiment after Thursday's game, even as he tried to limit the panic around Boston's inconsistent play.
"If we had won [Thursday's] game, I'd have been happy and I'd have said all these great things about our team," said Rivers. "And [Chicago coach Tom Thibodeau] would have said the bad things about his team. Then you play the next night.
"Listen, we've been inconsistent. We have to play better. We have to play with a better sense of urgency, as a habit. If I have a concern, we have this turn-off, turn-on thing. I don't think, with this group, that works."
After Thursday's loss, Rondo said: "It's a pretty different team. It's not the same team. We're not going to be able to turn it on like we did last year. Even last year, we came up short [in Games 6 and 7 of the NBA Finals]. I don't know what we're waiting on, but these type of games we have to find a way to win. It's a roller coaster right now, and we went back down today."
Added Kevin Garnett: "We've got to be better than this. No way we can come out and put an effort like this in a game this big."