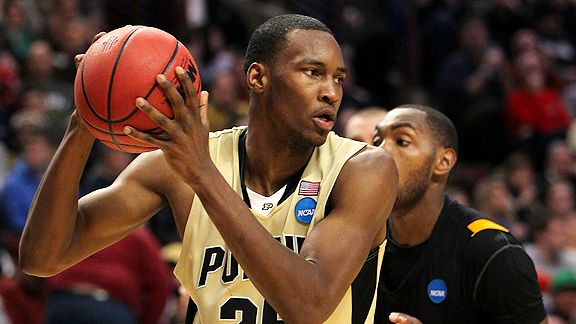 Jamie Squire/Getty Images
Could Purdue's JaJuan Johnson be Boston's pick at No. 25 on Thursday night?Over the past two weeks, we profiled a group of players that the Celtics could potentially target in Thursday's draft. Here's a helpful rundown:
THE BIGS
Nikola Vucevic, 7-0, 260 lbs., USC
Jeremy Tyler, 6-11, 263 lbs., Tokyo Apache
Kenneth Faried, 6-8, 225 lbs., Morehead State
Justin Harper, 6-9, 228 lbs., Richmond
JaJuan Johnson, 6-10, 220 lbs., Purdue
Jon Leuer, 7-0, 223 lbs., Wisconsin
Jordan Williams, 6-9, 247 lbs., Maryland
Trey Thompkins, 6-10, 239 lbs., Georgia
Malcolm Thomas, 6-9, 223 lbs., San Diego State
Greg Smith, 6-10, 253 lbs., Fresno State
Keith Benson, 6-11, 217 lbs., Oakland
THE OTHERS
PG Malcolm Lee, 6-6, 198 lbs., UCLA
PG Norris Cole, 6-2, 175 lbs., Cleveland State
PG Reggie Jackson, 6-3, 208 lbs., Boston College
SG Marshon Brooks, 6-5, 195 lbs., Providence
SF Jimmy Butler, 6-8, 222 lbs., Marquette
SF Kyle Singler, 6-9, 228 lbs., Duke
So, armchair general managers, who's your preferred pick (and who will legitimately be available at pick No. 25)? Is this so-called "weak" class leaving you scrambling for a trade? Sound off in the comments.