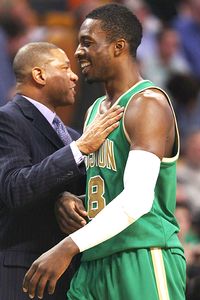 Elsa/Getty Images
The Celtics extended a qualifying offer to Jeff Green Thursday.The Boston Celtics formally extended a qualifying offer to forward Jeff Green Thursday making the four-year veteran a restricted free agent as the NBA prepares for an uncertain summer.
The Celtics also exercised the 2012-2013 option on Avery Bradley.
In a move that Celtics president of basketball operations Danny Ainge acknowledged would occur earlier this week, Boston submitted the one-year, $5.9 million tender that sets into motion the process that will likely keep Green in green next season. While NBA owners are expected to lock out their players at midnight, the Celtics will essentially boast the right of first refusal with Green once the offseason does begin as Boston can match any offer a team might make for Green's services.
Green appeared in 26 games for Boston after being acquired from Oklahoma City along with Nenad Krstic and a future first-round pick in a deadline swap that sent Kendrick Perkins to the Thunder. Green averaged 9.8 points and 3.3 rebounds over 23.5 minutes per game with the Celtics (though those numbers dipped to 7.3 points and 2.7 rebounds over 19.2 minutes per game in nine postseason appearances).
"I think what people don't realize is how hard it is to [change roles]," Ainge said immediately after the 2010-11 season ended. "When I played in the [1980s], we brought in players that were hurting us every time we played them, like we couldn't stop them. I think one example is a player named Darren Daye. He used to score 25 every time we played him, but now all of a sudden he's coming in, he's playing behind Larry Bird and Kevin McHale and some games he scores zero playing behind them because he's just coming into the game to give them a rest.
"It's a different role and the expectations need to be different... [Green] gave us scoring, 3-point shooting that we needed, along with good defense and some athleticism. I think Jeff was a bright spot, based on what my expectations were."
The Celtics think a full training camp for Green in Boston, along with an uptick in minutes next season, will allow him to thrive. Playing starters minutes with Seattle/Oklahoma City, Green has averaged 13.9 points and 5.5 rebounds over 33.6 minutes per game over his four-year career.
With full Bird Rights to Green -- so long as those carry over to the next collective bargaining agreement -- the Celtics have the ability to offer Green as much as a max extension despite being over the salary cap. That could aid the team in retaining his services regardless of whether another team pursues him. The question is whether Boston wants to forfeit its looming financial flexibility after the 2011-12 season by agreeing to any long-term, big-money deal. It might be in Boston's best interest if Green inks the one-year tender and, even with the prospects of unrestricted free agency looming next offseason, and examines a longer-term deal then.
One other less-likely option that Boston can explore is a sign-and-trade deal. If the Celtics simply don't believe that Green is in the future plans, but don't want to lose out on his value, they could ink him this offseason, then flip him to another team in exchange for a player that better fits their immediate needs.
For his part, Green expressed an interest in coming back to Boston.
"These last couple months have been great, like I said, hopefully you'll see more," Green said after Boston was eliminated by the Miami Heat in Game 5 of the Eastern Conference semifinals. "All I'm going to do is just get better. There's a lot to my game that a lot of people haven't seen, a lot of dimensions that I can bring to this team or wherever I'm at."
As probably could be expected after making such a bold deadline move, Ainge stood in staunch defense of Green and his potential in Boston.
"First of all he's a good player right now," Ainge said after the season. "Jeff has proven himself. He's been a starter on a 50-win team in the NBA and probably the third most important contributor to a team. I think that this year in the playoffs he proved that when he was really needed as more than just a player to give rest -- he played behind Ray and Paul and [Kevin Garnett], which is a tough assignment -- but when Paul got hurt in Game 2, Jeff comes in, scores 10 points in a six- or seven-minute span, had five huge points for us in the fourth quarter of [Game 5]. I think Jeff played excellent.
"I think that because of his versatility -- and maybe the expectations were too high because we were trading Kendrick Perkins for him, or I don't know what it is, but we knew that he wasn't going to start, we knew he wasn't going to play 35 minutes. We needed a veteran player, an experienced player, an athletic player, so we know what Jeff Green is. He's a highly efficient offensive player that plays good defense, that has great character, that's 6-foot-9, versatile, athletic, and that's what we need. And he's young, and I think he's just going to get better because of his character and his work ethic."