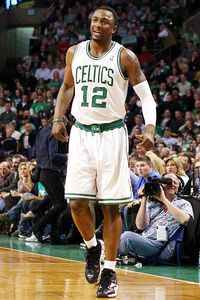 Elsa/Getty Images
A calf injury detoured Von Wafer late in the 2010-11 season.In six NBA seasons, Von Wafer has never had the opportunity to return to the team he ended the previous campaign with and build upon that experience. While committed to exploring all options this offseason -- including potentially heading back overseas if the NBA lockout lingers -- Wafer wouldn't be opposed to a return engagement with the Boston Celtics, according to his agent Terrance Doyle of the Veritas Venture Group.
Wafer appeared in 58 games for Boston last season, averaging 3.2 points over 9.5 minutes per game. A calf injury in early March detoured him at maybe the worst possible time, but Wafer did get healthy enough to appear in three playoff games.
"Von would love to be back [with Boston]," Doyle said of the 6-foot-5 swingman who has played for seven teams since being drafted by the Lakers in the second round (35th overall) of the 2005 draft. "He's never gotten that opportunity to go back with a team."
Inked last August, Wafer had to fend off challenges for his roster spot during training camp and endured a locker room dust-up with teammate Delonte West early in the season. Although Wafer was on a non-guaranteed minimum contract, Celtics president of basketball operations Danny Ainge offered consistent praise and Wafer survived the duration of the season, including February's bench overhaul. In fact, that roster flux nearly opened some doors for Wafer, but a calf injury in early March kept him off the court for nearly a month and prevented Wafer from playing his way into a larger role.
While Boston's first-round draft pick JaJuan Johnson snagged Wafer's No. 12 at last Monday's rookie introductions, Wafer remains a potential free agent option for depth at the swingman spot. Boston's desire to keep him might depend on whether the team can re-sign combo guard West, and whether Gilbert Brown, the undrafted shooting guard out of Pittsburgh who's also represented by Doyle, can earn a spot on the team once the lockout is over.
Doyle said Wafer has a better idea of what's expected of him after last season and stressed that Wafer learned a lot from Boston's veteran leaders. Wafer will draw interest from teams hoping he can rekindle what made him an effective bench presence in Houston during the 2008-09 season, when he averaged 9.7 points over 19.4 minutes per game. Wafer shot only 26.9 percent from beyond the arc last season, down from 39 percent in Houston, and coach Doc Rivers worked hard to get him to buy into the defense-first system. Even still, Wafer showed glimpses of what makes him an intriguing depth option.
Wafer chased an overseas payday with Greek squad Olympiakos after his breakout 2009 season, but soon returned stateside hoping to find another NBA job (he inked a 10-day contract with the Mavericks in February 2010). Doyle suggested Wafer might explore overseas options again depending on the length of the lockout.
Hop HERE for more on Wafer, including last month's Grab Bag about whether Wafer deserves another year in Boston.