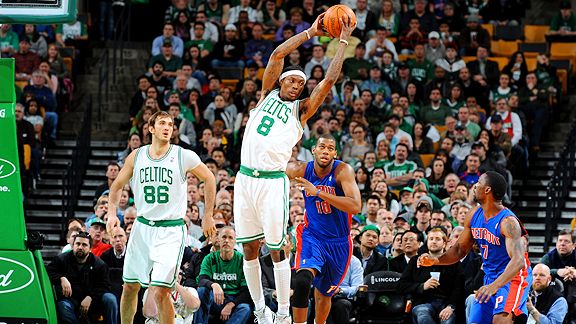 Brian Babineau/NBAE/Getty Images
Semih Erden (86) and Marquis Daniels (8) played key roles for Boston early in the season.Over the next few weeks, we'll take a player-by-player look at the Celtics' 2010-11 roster and how each player's season unfolded, assigning a grade for their overall performance. This is the 12th in the series of report cards:
The Departed
A snapshot of the six players that came and went during Boston's 2010-11 season:
Season in a paragraph: For the first 50 games of the 2010-11 season, Celtics president of basketball operations Danny Ainge expressed unconditional love for the roster Boston had carried out of training camp. Then Daniels suffered the scary spine injury against the Orlando Magic, leaving the team dangerously thin at the wing position, and, coupled with inconsistent bench play, led to a massive overhaul of the reserve unit. You know the story from there, Perkins and Robinson were shipped to Oklahoma City for Jeff Green, Nenad Krstic, and a future first-round pick; Daniels got flipped to Sacramento, while Erden and Harangody went to Cleveland, both of those moves aimed at freeing up roster space that would later be used to ink Troy Murphy and Sasha Pavlovic (see their grades here). Johnson, a D-League center with plenty of upside, got signed to a 10-day deal at the deadline with Boston short on bodies, but couldn't get an extended stay when the team decided to ink Carlos Arroyo for backup point guard depth.
Season highlight: Robinson made 11 starts during the 2010-11 season and averaged 12.8 points, 4.1 assists, and 3.1 rebounds over 33.2 minutes per game. He simply couldn't replicate that production as a reserve... Perkins made a stunning early return from offseason ACL surgery and chipped in 7 points and 6 rebounds over 17:10 in his late January debut against Cleveland. By his sixth game, he was playing nearly 33 minutes, chipping in 13 points and 12 rebounds in a loss to Dallas... So much was made about Daniels' health entering the 2010-11 season, but he appeared in 49 of the first 50 games, missing just one contest due to a family issue. Two days before the freak spine injury, he chipped in 10 points on 4-of-6 shooting over just 13 minutes against Dallas... Rookie Erden logged seven starts and produced a 6-1 record during that span, playing through the pain of shoulder and groin injuries to provide Boston a center presence when its more veteran big men were unable to stay on the floor... Harangody exploded for 17 points and 11 rebounds over 27 minutes in January win over Toronto (he would score just 24 more points in a Boston uniform before being dealt)... Johnson played 17 minutes the same day he was signed by Boston, chipping in 6 points and a rebound in a loss to Denver the night of the trade deadline.
Season lowlight: The lives of all six players ultimately changed during the frightening sequence when Daniels got snagged on the shoulder of Orlando's Gilbert Arenas and collapsed to the Garden floor in early February. Daniels got stretchered off the court and, once his spine condition came to light, it was clear his season was over, forcing Ainge's hand to make the deals that shook up the roster.
Final grade: It's impossible to assign a single letter grade for all six players, but it's fair to say this group contributed far more than those they were replaced by. Erden and Daniels earned a B on our midseason report card (and those marks probably would have stayed the same), while Harangody (C) and Robinson (C-) didn't grade out quite as well (likewise, those seem like fair marks overall). Perkins deserves a strong mark for simply getting himself back on the court so quickly and being an instant contributor.
Teacher's notes: It's unfortunate that we don't have some sort of alternate universe simulator, where we could find out how the Celtics might have fared with their original roster intact. Even if Daniels' injury never occurred, the Celtics were going to have to think about trading Perkins at the deadline because of his looming free-agent status, but it's hard to imagine the Celtics being so eager to pull off a move if it wasn't for the lack of depth at the wing. If Jeff Green pans out the way Boston brass envision, the Erden/Harangody deal might ultimately be the toughest one to swallow given the promise that Erden showed and the way he battled through so many injuries just to keep this team afloat early on (especially after Troy Murphy and Co. gave this team nothing down the stretch).
What's next?: Perkins is locked up long term in Oklahoma City, the Thunder offering the kind of contract that Boston couldn't this offseason. Erden, Harangody, and Robinson each have another year on their deals, while Daniels will be unrestricted free agent if he's able to resume his basketball career. It's hard to imagine anyone beyond Johnson -- a young player the Celtics really, really liked -- breezing back through the Hub any time soon.
Honor roll: Click HERE to read past report cards.
Don't agree with teacher? Just want to sound off on the departed's 2010-11 season? Leave your thoughts in the comments section.