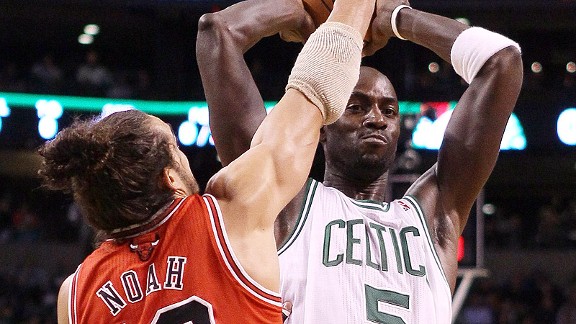 Elsa/Getty Images
Kevin Garnett and the Celtics are still searching for a quality win.BOSTON -- Rapid reaction after the Chicago Bulls defeated the Boston Celtics 88-79 Friday night at TD Garden:


HOW THE GAME WAS WON
Reigning MVP Derrick Rose scored a game-high 25 points, including some pivotal points when the Celtics made a furious rally in the fourth quarter, adding seven assists and four rebounds over 39 minutes. Luol Deng did the bulk of the damage early on, scoring 21 points on 8-of-17 shooting and adding a whopping 16 rebounds over 42 minutes. Ray Allen scored a team-high 16 points for the Celtics, while Rajon Rondo chipped in 14 points, 11 assists and 7 rebounds while again providing the only early spark.
ANOTHER UGLY FRIDAY FIRST HALF
Exactly one week after matching a franchise record by scoring just 25 first-half points in a loss to the Indiana Pacers, the Celtics dug themselves a mighty big hole with a lackluster effort before intermission against the Bulls. The Celtics connected on a mere 13 of 39 shots (33 percent) and trailed 52-33 after two frames. That included a cringe-worthy 13-point first quarter. Boston went a whopping 8½ minutes without a field goal, allowing Chicago to stretch an 18-11 lead with 3:59 to go in the first quarter into a 17-point cushion before Allen's driving layup snapped the hoop-less streak with 7:31 to play in the second.
TURNING POINT
The Celtics played more inspired ball in the second half, trimming a 20-point deficit midway through the third quarter down to a single point with 10 minutes to play in the game. Boston even had a chance to pull ahead, but Paul Pierce missed a jumper. Rose didn't give them another chance. He drove strong to the basket on consecutive pick and rolls, generating four points (a layup and two free throws) to quickly push the lead to five (71-66). After a Kevin Garnett make, Rose busted a brief zone look with a 3-pointer for a 74-68 lead that kept Boston at bay.
LOOSE BALLS
Chris Wilcox turned in a solid effort -- alas, it was only three minutes of work, though he chipped in two buckets (two dunks, one off an offensive rebound), finishing with four points. … Doc Rivers shortened his rotation a bit, employing only four bench bodies when it mattered (one of whom was Jermaine O'Neal off the pine after Brandon Bass jumped into the starting lineup). Only O'Neal and Mickael Pietrus (6 points, 14 minutes) logged quality time for the reserves. … One positive: The Celtics corralled seven offensive rebounds. Alas, the Bulls grabbed 11 of 24 second-chance points. … The Garden crowd (or what was left of it) erupted when Brian Scalabrine checked in for trash time. They popped again when he tried to save an offensive rebound near the end line. … E'Twaun Moore, JaJuan Johnson, Greg Stiemsma,and Marquis Daniels played the final moments.
WHAT IT MEANS
Well, the rally was fun, right? The Celtics made a valiant charge, but the late-game execution continues to be troublesome (as are the slow starts that create holes too deep to climb out of). Boston is still searching for its first win against a playoff-caliber opponent, allowing the Bulls to win in Boston for only the second time in nine tries. Pierce continues to struggle from the floor (3-of-12, 13 points, minus-16 plus/minus),and despite an offensive flurry that aided the rally, Garnett was the only starter outside of double figures (8 points, 7 rebounds over 33 minutes). It doesn't get easier with a back-to-back in Indiana on Saturday night and a visit from the Oklahoma City Thunder (and old friend Kendrick Perkins) on Monday.