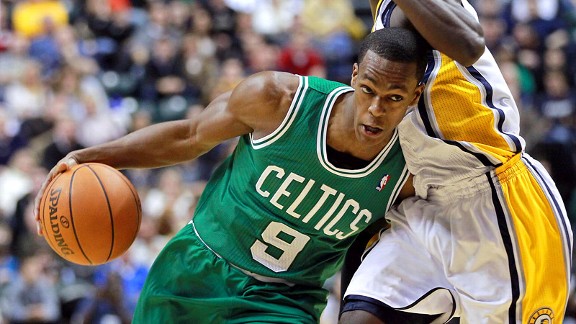 Michael Hickey/US Presswire
Rajon Rondo and the Celtics couldn't make any progress Saturday against the Pacers.Rapid reaction after the Indiana Pacers defeated the Boston Celtics 97-83 Saturday night at Bankers Life Fieldhouse:


HOW THE GAME WAS WON
Danny Granger scored 21 points for the Pacers, connecting on 8 of 19 field goal attempts. The Pacers' offense was further anchored by Darren Collison (17 points, 4 rebounds, 4 assists), and Paul George (17 points, 8 rebounds). For the Celtics, Paul Pierce and Kevin Garnett each put in a team-high 21 points, playing better (though certainly not perfectly) than they have in recent nights. Garnett took a team-high 19 shots.
TURNING POINT
Despite a better first quarter start compared to what's been seen in recent games (The C's scored 24 first-quarter points Saturday compared to their 15-point average in the opening frame in their previous four games), the Celtics couldn't sustain it in the second frame, when the Pacers upped their lead to as many as 13, before eventually carrying an eight-point advantage into halftime. Boston wouldn't make much progress in the third frame, as Indy increased its lead back up to as many as 18 on a 3-pointer by Granger and cruised to the win from there.
STAT OF THE GAME
It's 95.7% -- the Pacers' percentage from the free throw line. Indiana earned 23 shots from the stripe and buried 22 of them.
UNSUNG HERO
Brandon Bass. It's tough to choose a member of the losing team on a night like this, but as the Celtics were in the midst of imploding in the second half, Bass stayed the course and did his job, grabbing rebounds and hitting that patented jump shot of his. He finished the night with 10 points, 8 rebounds, and 2 assists in 21 minutes. Bass recovered from a 1-for-5 start from the field to finish 5-of-12 overall.
WHAT IT MEANS
The Celtics are now losers of four straight, still have yet to defeat a playoff-worthy opponent, and fall to 1-2 on the second night of back to backs. If you weren't concerned already, now might be the time. Offensively, the Celtics got the start they were looking for, but the problems on defense persisted from the get-go. Boston allowed 29 first quarter points, and were marred by the same issues that have plagued them throughout their four-game losing streak. The Pacers outscored the Celtics, 23-9, on second-chance points, owned the paint by a score of 42-24, and outpaced the Celtics in transition, finishing with a 23-13 edge in fast break points. The frustration level might finally be setting in for the Celtics, as they're still unable to put together a complete game of solid basketball.