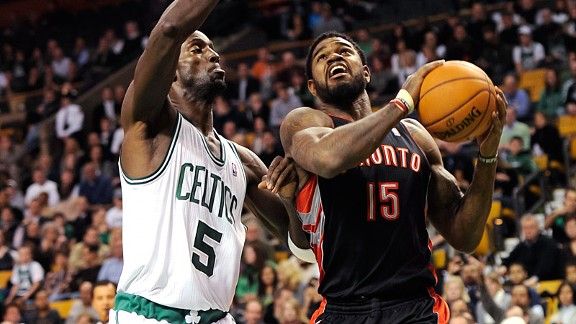 Bob DeChiara/US Presswire
Kevin Garnett and the Celtics snapped a five-game losing streak vs. the Raptors.BOSTON -- Rapid reaction after the Boston Celtics defeated the Toronto Raptors 96-73 Wednesday night at TD Garden:


HOW THE GAME WAS WON
Rajon Rondo (21 points, 3 rebounds, 2 assists) and Paul Pierce (8 points, 7 assists, 4 rebounds) essentially flip-flopped roles and it helped Boston snap a five-game losing streak, the longest of the Big Three era. Kevin Garnett added 15 points (on efficient 5-of-7 shooting), though Ray Allen continues to search for his shot (6 points, 2-of-7 shooting over 27 mintues). Brandon Bass (13 points, 9 rebounds, 2 blocks, 1 steal) and Mickael Pietrus (12 points on 4-of-7 shooting beyond the arc) sparked a bench-heavy effort. Former UMass star Gary Forbes propelled the Raptors with a team-high 18 points off the pine.
RONDO (WRIST) INJURED ON HARD FOUL
The Celtics got a relatively breezy win, but it wasn't without some pain. Rondo, who sparked the offense behind 7-of-8 shooting from the field and 7-of-11 shooting at the charity stripe over the 28 minutes departed late in the third quarter after suffering a right wrist injury while crashing hard to the floor on a flagrant foul by Linas Kleiza. Hop HERE for more on the injury.
NOW THAT'S HOW YOU START...
Plagued by slow starts this season, the Celtics came flying out of the gates. The Celtics connected on 12 of 20 shots overall (60 percent), but most encouraging was how the team made 7 of 8 attempts at the rim (this after missing 15 of a season-high 33 tries there against the Thunder on Monday night). The Raptors connected on 6 of 20 attempts (30 percent) and Boston built a 15-point cushion after one frame.
... BUT NOT HOW YOU FINISH (THE HALF)
A promising first half gave way to a dismal second quarter in which the reserve unit sloshed through nearly four scoreless minutes and the Raptors ultimately whittled the lead to six at halftime (and Boston's first unit was as much to blame with some sloppy play late in the half). The Celtics were 6 of 20 shooting (30 percent) in the frame and Jermaine O'Neal -- he of "don't judge me on my offense" fame -- was the only player with multiple buckets.
GINO TIME!
Boston's favorite smooth-grooving dancer -- who serenades the Garden with his moves in an American Bandstand clip played during lopsided victories -- dropped in for only the second time this season with Boston owning a 93-66 advantage with 2:18 to go. Garnett didn't miss the opportunity to groove away in front of the Celtics bench, taking more pleasure than anyone else in the clip.
WHAT IT MEANS
Beggars can't be choosers. The Raptors join the other Eastern Conference doormats the Celtics have feasted on this season (we're looking at you, Wizards, Pistons, and Nets). Toronto has lost six straight and was playing again without star big man Andrea Bargnani (all while tinkering with their starting lineup looking for a spark). Regardless, the Celtics turned in some inspired ball -- even if there were a few lulls and the Rondo injury tempered the evening a bit. Boston has a chance to build some momentum here with Phoenix visiting on Friday and a trip to Washington looming Sunday (a chance to hand the Wizards a third loss this season). Plus the younger players got extended time in a lopsided win. All in all, it's an encouraging victory that gives Boston something positive to build off after two rough weeks.