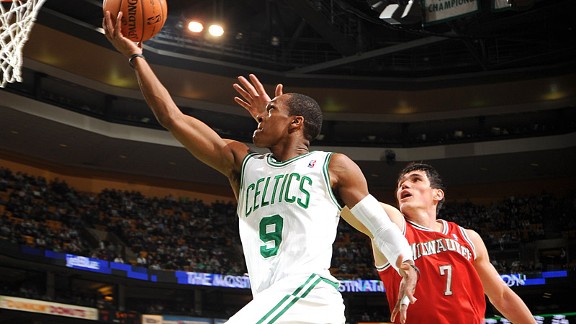 Brian Babineau/NBAE/Getty Images
Rajon Rondo propelled Boston with a triple-double.BOSTON -- Rapid reaction after the Boston Celtics defeated the Milwaukee Bucks 102-96 Wednesday night at TD Garden.


HOW THE GAME WAS WON
Rajon Rondo produced another triple-double (15 points, 11 rebounds, 10 assists) while fueling the Celtics offense (including 7-of-13 shooting as he raced to the rim early and often). All five Boston starters finished in double figures, including Kevin Garnett with a team-high 25 points (to go along with 10 rebounds) and Brandon Bass with 16 points (to go along with seven rebounds). The Celtics were up 15 with 2:56 remaining, but somehow managed to let Milwaukee back in, and it was a two-point game with 24 seconds to go. Garnett finally made four freebies down the stretch to seal the win. Ersan Ilyasova chipped in 25 points and 10 rebounds, while Drew Gooden added 23 points and eight boards to pace the Bucks.
TURNING POINT
The Celtics were down six with nine minutes to go in the third quarter when they caught fire. Boston embarked on a 25-6 run over the next seven minutes -- hardly looking like the team that's been so prone to offensive lulls -- as Garnett and Bass combined to score nine of the game's next 11 points and Boston pulled ahead 61-60 with 6:46 to play in the frame. The Celtics were just getting started. Even when Chris Wilcox checked in for Garnett, the team kept the layup line going (Ray Allen and Paul Pierce mixing in the occasional close-range jumper) and a Bass 17-footer with 2:15 to play had Boston out front 77-64.
BENCH MOB CHIPS IN
The Boston reserves combined for a mere 21 points, but it was a much-needed boost. Chris Wilcox contributed seven points to go along with 13 rebounds -- his second double-digit rebounding game in a row -- and Keyon Dooling added eight points, highlighted by a reverse jam on a baseline drive in the second half.
WHAT IT MEANS
The Celtics have won two in a row to start the second half of the season. While they were still prone to second-quarter lapses in each of these back-to-back games, they've shown a lot of encouraging signs (particularly the third-quarter effort against the Bucks). The schedule remains favorable with visits from Atlantic Division foes New Jersey (Friday) and New York (Sunday) ahead. This was a chance for Boston to build some momentum and rebuild its confidence. They've taken advantage so far and it might help calm the trade rumors that will swirl even faster as players inked in the offseason become trade-eligible on Thursday. With the win, the Celtics are back at .500 with a 17-17 record.