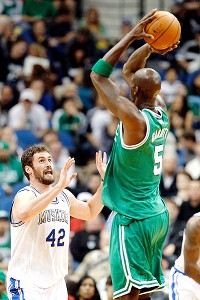 AP Photo/Genevieve Ross
Kevin Garnett continues to thrive.Good luck trying to find something to gripe about after the Boston Celtics defeated the Minnesota Timberwolves 100-79 Friday night at the Target Center. It's all sunshine and puppy dogs as Boston won its fourth straight and vaulted into first place in the Atlantic Division. A few thoughts after maybe the team's most complete win in a while:
* KG turning back the clock: Sure, Kevin Garnett had extra motivation in heading back to Minnesota on Friday night and responded with a brilliant 24-point, 10-rebound effort (all while keeping Kevin Love in check). But over his last five games, Garnett is averaging 20.2 points per game and shooting 54.2 percent from the floor. Those numbers are well above his season averages (15.6 ppg, 51.5 percent) and even better than his career marks (19.4 ppg, 49.9 percent). Garnett's play while shifting to the center position in the second half of the year may have revitalized (and maybe even saved) the 2011-12 season for the Celtics. The only question is, can he sustain this level of play in the playoffs? The Celtics need this offensively aggressive Garnett when the games matter most.
* Bradley's emergence easing Allen's ankle woes: Ray Allen missed his fifth straight game due to lingering soreness in his right ankle, yet it's been virtually a non-story because of the way second-year guard Avery Bradley has played during his absence. Bradley's offensive eruption continued Friday night as he connected on 6-of-9 shots (most at the rim) for 17 points over 37:47. Bradley has thrived in starting roles this season, first filling in for Rajon Rondo, now holding the fort for Allen. Heck, there are some whispering about whether the Celtics should keep Bradley in the starting lineup even when Allen comes back (unless his ankle woes are going to linger and limit him, it's probably premature to even consider that), but it speaks to Bradley's emergence and what his energetic play at both ends of the court has brought to the team this season.
* Getting more from the bench: Given the amount of injuries the Celtics have endured this season, it's somewhat understandable how underproductive the bench has been. Think about it: At the start of the season the Celtics expected their second unit to include the likes of Brandon Bass, Mickael Pietrus, Chris Wilcox, and Jeff Green. Jermaine O'Neal's season-ending wrist injury (he had surgery Friday) shuffled Bass into a starting role, while both Green and Wilcox were lost for the year due to aortic ailments. Pietrus is out now as he recovers from a scary concussion and that leaves the Boston bench dangerously thin entering the final month of the season. Despite it all, the Celtics are starting to actually get more contributions from guys they didn't expect to lean on quite as heavily. On Friday, if you take away Sasha Pavlovic's woeful shooting night, the Celtics' bench combined to connect on 9-of-14 shots for 20 points. Sure, it's not a monster output, but it's an efficient effort. Greg Stiemsma continues to blossom and chipped in 8 points (on 4-of-4 shooting), 5 rebounds, and used up all 6 of his fouls over 22:32, while Keyon Dooling is regaining confidence in his shot. It's a nice boost, even when the starters are thriving as a unit.
* Celtics are a defensive team: Coach Doc Rivers likes to remind us all the time that Boston's success is ultimately tied to its defense. On Friday, the Celtics limited Minnesota to 34.7 percent shooting (26-of-75 overall) and played them evenly on the glass (45 rebounds for each team). If the Celtics can do that all season (while limiting their turnovers offensively -- only 9 for 3 points vs. the Wolves), they are going to be a very difficult team to beat. With Bradley running with the first unit, the starters are really setting the defensive tone out of the gate and building comfortable early leads because of the number of stops the Celtics are generating.
* Now it gets difficult: OK, the one lament: Boston's schedule just got decidedly more difficult. The first seven games in April are against playoff teams, including a brutal first week that includes visits from Miami and San Antonio before a trip to play Chicago and Indiana. Games against Philadelphia, Miami, and Atlanta loom the week after. Needless to say, Boston is going to have to work if it wants to maintain its new-found one-game advantage atop the Atlantic Division. Boston entered Friday's game with the toughest remaining schedule (based on winning percentage of opponents), while the path is decidedly easier for the 76ers, who also own the head-to-head tie-breaker against the Celtics in the case of a tie atop the standings. Even still, Boston has built some serious confidence in recent games and it will be interesting to see (1) How that carries over as the schedule increases in difficulty and (2) If the Celtics can maintain their strong play, all while getting back reinforcements like Allen and (potentially) Pietrus before the playoffs arrive.