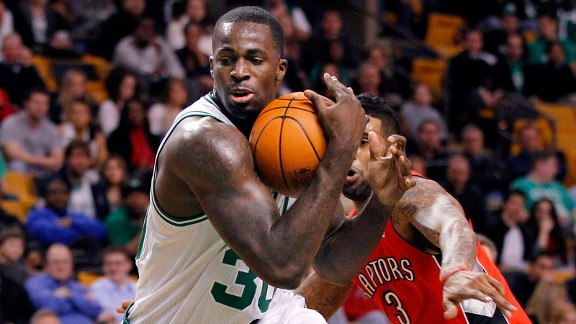 AP Photo/Elise Amendola
Brandon Bass and the Celtics wrapped up exhibition play vs. Toronto.BOSTON -- Rapid reaction after the Boston Celtics defeated the Toronto Raptors 81-73 Wednesday night at TD Garden:


HOW THE GAME WAS WON
Rajon Rondo chipped in 17 points, 7 assists, 2 rebounds, and 2 steals over 23 minutes, while staking the Celtics to an early lead. Brandon Bass (12 points) and E'Twaun Moore (11 points) fueled a bench-heavy effort. Toronto starters Andrea Bargnani (20 points) and DeMar DeRozan (16 points) paced the Raptors while playing heavy minutes. The Celtics utilized their entire bench and even Michael Sweetney got a late bucket, much to the delight of the crowd.
TURNING POINT
The Celtics scored the game's first eight points, holding Toronto without a basket for the first 4:23 and never looked back. Rondo made 4 of 5 shots in the first quarter (including a trio of jumpers) and a pair of free throws as Boston's lead quickly escalated to double figures. The Celtics led by 16 at the intermission (47-31) and, while Toronto cut the lead to five late in the third quarter, it was against a reserve unit that quickly stretched things back out (thanks in large part to Moore).
STAT OF THE GAME
The defensive-minded Celtics limited Toronto to 32.4 percent shooting from the field (24-of-74 overall) while registering 10 steals and nine blocks. The Raptors connected on a mere 1-of-17 3-pointers (5.9 percent).
UNSUNG HERO
His spot on the roster was probably already assured, but D-League standout (and camp invite) Greg Stiemsma put together an inspiring effort, chipping in seven points, five rebounds, and two blocks over 18 minutes. That included a pretty little lefty hook in the lane and a big jam off a feed from Rondo in transition. The kid is going to help a Celtics team thin on centers up front.
WHAT IT MEANS
The Celtics complete their preseason with a two-game sweep of Toronto. Bring on real basketball, which begins Sunday with a Christmas Day showdown against the New York Knicks at Madison Square Garden. The only area of potential concern: Jermaine O'Neal went to the locker room early, though no injury announcement was made. Boston was already playing without captain Paul Pierce (bruised right heel).