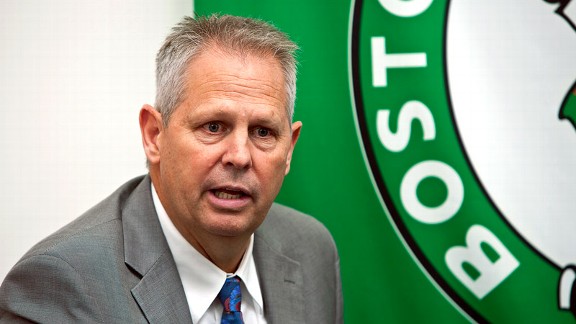 Rich Obrey/NBAE/Getty Images
Danny Ainge put together a team that got to the Eastern Conference finals.Over the three weeks leading up to start of the new league year on July 1, we took a player-by-player look at the Celtics' 2011-12 roster and how each player's season unfolded, assigning a grade for their overall performance. This is the 18th and final report card in the series:
Season in a paragraph: Coming out of the lockout, Ainge tried to make a big splash with a spirited charge at acquiring Chris Paul. When that failed, he turned his attention to beefing up Boston's core and endured mixed results. David West spurned Boston to sign with the Pacers, while a near-deal with free agent Reggie Evans fizzled and he signed with the Clippers. The Celtics added Chris Wilcox with their one big chip ($3 million taxpayer's mid-level exception), then worked a sign-and-trade that brought Brandon Bass to Boston in exchange for Glen Davis. Ainge filled out the bench with the low-priced likes of Keyon Dooling, Mickael Pietrus, Greg Stiemsma, Marquis Daniels, and Sasha Pavlovic. Ainge stood pat at the trade deadline (and was rewarded with a run to the cusp of the NBA Finals). Along the way, the team picked up big men Ryan Hollins and Sean Williams when injuries to Jermaine O'Neal and Wilcox depleted the roster.
Season highlight: Ainge's shrewdest move might have been flipping Davis to Orlando for Bass. For all of Davis' talents and chemistry with the Big Four, he was a constant headache with his mercurial behavior. Bass proved to be an offensive upgrade and was excellent once he settled into the team's help defense system. Bass kept his mouth shut, worked his way into the starting lineup, and was a key cog in Boston's second-half success. Honorable mention: Ainge resisting the urge to make a move at the trade deadline, keenly identifying that this core still had a playoff run in it.
Season lowlight: The preseason had to be a source of incredible frustration for Ainge and his staff. Working quick after the lockout lifted, the quest for CP3 came up short and relations with Rajon Rondo had to be repaired a bit. The team thought it had the likes of West and Evans, only to watch them sign with other teams. Combine it with the heart issue that ended Jeff Green's season and Boston didn't start the year on the right foot.
Final grade: B
Teacher's notes: Put in a tough spot with the lockout and all the injuries Boston endured, Ainge did a solid job putting together a competitive roster that was able to withstand all the adversity. Even after being rebuffed in his attempt to overhaul the core by adding Paul, Ainge audibled to Plan B and added enough around the veterans to make a run. His quietest moves deserve some of the biggest credit: Like flipping a Daniels trade exception to Milwaukee to land locker room leader Dooling, or plucking Stiemsma out of the D-League, and landing Pietrus off the waiver wire after Green went down.
What's next?: Ainge faces maybe his most daunting summer yet. He needs to decide whether to put the band back together for one more run with this core -- that all hinges on Kevin Garnett and his future -- or whether to blow things up a bit and start working towards the future. The Celtics have potential cap space if KG decides to hang it up, but the free-agent pool isn't as deep as once expected and Boston can't easily add an elite player (like Paul or Dwight Howard, who were supposed to be available this summer). Ainge must work his magic to keep this team competitive and start building towards the future.
Honor roll: Click HERE to read past report cards.
Don't agree with teacher? Just want to sound off on Ainge's 2011-12 season? Leave your thoughts in the comments section.