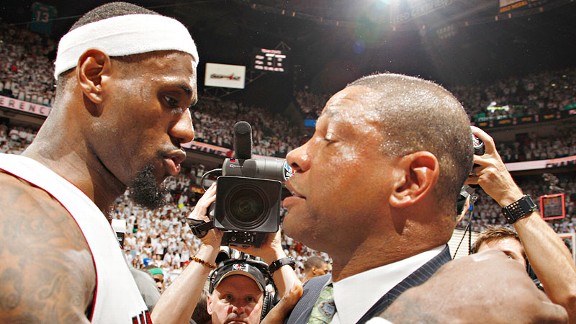 Issac Baldizon/NBAE/Getty Images
Celtics coach Doc Rivers and LeBron James shared a moment after Game 7 in Miami.MIAMI -- After the Heat defeated the Celtics in Game 7 of the Eastern Conference finals Saturday night, Boston coach Doc Rivers and Miami's LeBron James shared an embrace and a short conversation on the floor at AmericanAirlines Arena.
What was shared between coach and rival player?
"Well, I illegally recruited -- I told him we're going to have a lot of money (available for free agency this summer) and I didn't know when his opt‑out is," joked Rivers. "No, I didn't do any of that. No, he told` me he's very proud of the team and everything. And I basically told them to go do it. I'm proud of him. I think, again, he gets too much heat... Like I said earlier, he's wonderful."
During the off day between Games 6 and 7, Rivers had gone to bat for James during a conference call amidst all the criticism for his lack of winning the big game.
"I said it last year: He's a great player. I don't know what else he can do," said Rivers. "He does the right thing. When he makes the right pass and the guy misses the shot, he's criticized. When he forces a shot in a double team, he's criticized. It's the way it is for him, for whatever reason. He's competitive as heck. He's one of the most powerful players to ever play the game. And maybe it isn't enough. I don't know."
Asked if he could think of an athlete as scrutinized as James, Rivers -- a golf junkie -- suggested only Tiger Woods would be a comparison.
"Tiger over the last two or three years," said Rivers. "Other than that, no one. No athlete that I can ever remember being under that scrutiny, definitely in basketball. I've never seen anyone under the scrutiny that LeBron James is under."
Asked after the Game 7 loss if James had shown him something, Keyon Dooling offered some hefty support for the league MVP as well.
"No, no, no, no. I've never bought into this whole persona that LeBron isn't the guy," said Dooling. "I think everybody should relax a little bit. He's great for our game, he is our game. We need to uplift him, instead of trying to tear him down. He's a guy who's the most unselfish superstar I've ever seen. He rebounds the ball, he assists the ball, he's empowered his friends from the community, he does a lot of charity work in the community, he's a model citizen. He should not have a stain on his reputation, and I hope that it stops."