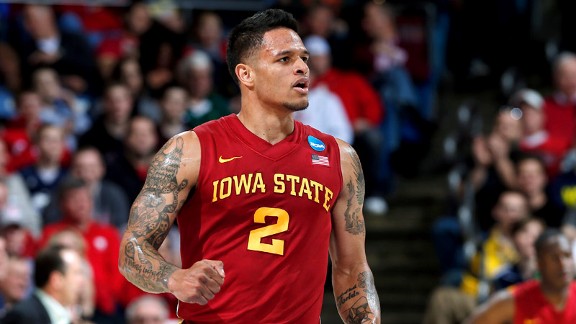 Joe Robbins/Getty Images
Chris Babb went undrafted out of Iowa State and will camp with the Celtics.Training camp begins at the end of the month for the Boston Celtics and each weekday leading up to the formal start of the 2013-14 campaign, we'll dive into our Celtics Mailbag and tackle a camp-related question:
Q: Of all the training camp invitees, do any actually stand any chance of making the roster? -- KWAPT (Brighton)
A: The Celtics currently plan to bring four camp invites to Newport for the start of camp on Oct. 1 in Chris Babb, Damen Bell-Holter, DeShawn Sims, Kammron Taylor. The good news for the invites: Boston has one available roster spot and just enough available money to keep one of them around. The bad news for the invites: They are probably going to have to dazzle to push Boston to the brink of the luxury tax line and snag that final spot.
After waiving the nonguaranteed contract of Donte Greene on Tuesday, the Celtics currently have 14 guaranteed contracts totaling approximately $71.6 million. The luxury tax line, which a transitioning Boston squad would prefer to stay under, is $71.748 million for the 2013-14 season. It leaves virtually no wiggle room. Boston could sign any veteran to a nonguaranteed deal and waive them before the early January deadline when contracts become guaranteed and could potentially have enough savings to carry an extra body for the start of the season (but even that might need further trimming later in the season). This, too, would seemingly work against the invites if Boston elected to add, say, a veteran point guard to provide depth if Rajon Rondo is still rehabbing from ACL surgery.
At first blush, there's not a Greg Stiemsma on this invite list, a D-League/overseas overachiever that's got the physical build that might encourage a team to roll the dice. But here's the great thing about training camp: These guys are going to get plenty of reps and a chance to impress. And with the alternative being a low-paycheck stay in Maine, or a trek back overseas, these four will have ample motivation to showcase their talents for Boston (and the rest of the league).
One of the more intriguing guy on the list to me is Babb, a 6-foot-5, 225-pound rock of a two-guard. If it wasn't for the crowded field at that position, you wonder if he'd have a better shot at sticking. His stat line doesn't jump off the page from his senior season at Iowa State (9.1 points, 3.4 rebounds, 2.2 assists), but those numbers don't tell the whole story. According to Synergy Sports data, Babb averaged 1.018 points per play, ranking in the 89th percentile (that included shooting 38.2 percent beyond the 3-point stripe) among all Division 1 hoopsters. Babb thrived in transition and seemed to pick his spots well, offensively. He's got the size to defend NBA bodies at three positions and, while his advanced defensive numbers were not flashy (he allowed 0.756 points per play last season, ranking in the 67th percentile), he was regarded as one of the nation's top collegiate defenders.
Bell-Holter, a 6-foot-9 forward out of Oral Roberts, has an intriguing story as an Alaska native who grew up rooting for Kevin Garnett and the Celtics. He averaged 15.5 points and 9.4 rebounds during his senior season and his advanced stats reflect positively. Bell-Holter averaged 1.004 points per play last season, ranking him in the 87th percentile among all Division 1 players. Defensively, he allowed a mere 0.698 points per play, which ranked in the 80th percentile.
Sims, a 6-foot-8 forward, brings a bit of familiarity after previously camping with Boston and having two tenures with the Maine Red Claws. He's gotten plenty of overseas experience and, at age 25, the Michigan product is trying to kick down that NBA door. Taylor is a 29-year-old guard who has spent time in the D-League and overseas (his personal website notes stops in Spain, France, Budapest, Cyprus, Colombia and Ukraine). He adds depth at point guard position with Rondo rehabbing.
Teams can send some of their final camp cuts through to the D-League, which could open doors to keep some of these young players (or anyone the team adds to the camp roster later) in the system. And at least one of these guys ought to make a strong case to stick around with grit and hustle during camp.
---
(Chris Forsberg can be reached at espnforsberg@gmail.com or on Twitter @ESPNForsberg. Hop HERE to submit a question for his Celtics Mailbag.)