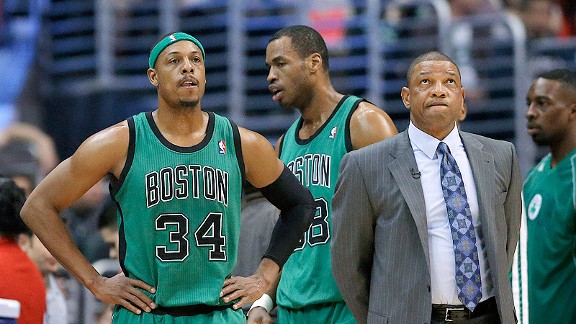 AP Photo/Jae C. Hong
The Celtics are still desperately searching for consistency in the 2012-13 campaign.After edging the then-juggernaut Los Angeles Lakers in a mid-February matchup back in 2010, Celtics coach Doc Rivers famously demanded $100 from each member of the team's traveling party (players, coaches, support staff) and stashed an envelope with $2,600 in the ceiling tiles in the visitor's locker room as motivation for his then-inconsistent squad to force a potential NBA Finals meeting with the Lakers.
After his team endured a 106-77 whooping at the hands of the Los Angeles Clippers on Thursday night, Rivers cracked that he was going to take up another collection to hide in the Staples Center walls -- the insinuation being that the Clippers, winners of 15 straight, are playing championship-caliber basketball. And the Celtics? Well, they clearly need some form of motivation to improve their current brand of woefully inconsistent play.
"I mean, geez, [the Clippers] were unbelievable," Rivers said.
He had every reason to be infuriated with his team's lackluster play, but instead of unloading on his players' effort, Rivers playfully opened with the hiding-the-money joke on Thursday night. Asked later if he was upset with his team, Rivers actually tried to take some of the sting out of a lopsided loss.
"No, no, no, no. [The Clippers are] playing well and we played horrible -- it's a perfect storm," Rivers told reporters in Los Angeles. "You hate those, you don't have a lot of those, but we had one of those tonight."
But the Celtics have had an awful lot of "those nights" lately. They might not all be 30-point drubbings, but Boston has rarely been able to string together consecutive solid efforts and their record reflects that.
Coming off one of their finest efforts of the season, you want to give the Celtics the benefit of the doubt. But the pattern so far this season suggests that this is the way it's going to be. They dipped back to .500 (14-14) with Thursday's loss and, as good as they looked on the Christmas Day stage in Brooklyn, the Celtics were completely disheveled in Hollywood's backyard.
Rivers didn't absolve his team from blame on Thursday, noting, "I thought we allowed [the Clippers] to be great tonight." And he wondered aloud if he could have prevented it, suggesting he sensed his players were a little overhyped for the marquee matchup during morning shootaround.
The Clippers embarked on an early 16-2 run to open a double-digit lead in the first quarter, then pushed that lead to as many as 32 points and gave the Celtics' just one chance at a comeback in the second quarter before racing away.
"I just thought we were out-thinking ourselves tonight and I should have probably stopped it, and I didn't," Rivers said. "I let it continue and the old saying is, 'An athlete in thought is a non-athlete,' and I thought we played in thought and that makes you slow, that makes you tentative, and I thought that's who we were tonight. I thought, offensively, we were even worse. We came off our best ball-movement game where everybody trusted the offense, the pass. Then tonight, when you're playing a team that's got a win streak like they do, everybody wants to beat them, and I thought every single individual on our team wanted to beat them and every individual tried to do it by themselves, instead of just playing the way you play."
Considering their roller-coaster season, the Celtics might as well bury some cash in the Staples Center walls. After all, they'll be back here in late February to visit the Lakers and can always retrieve their loot then. Boston is hoping to have a better grasp on its identity by then. For now, the Celtics are simply a roller-coaster team with big aspirations and an underachieving record.
Some remained convinced that Avery Bradley will be the savior as he eyes a potential Jan. 2 return to action (he won't hurt, but let's not pin too much on a third-year guard who has been largely contact-free for the past seven months). Others wonder if rookie Fab Melo could help after two monster outings with the Red Claws (Jarvis Varnado is demonstrating that D-League success doesn't always translate to immediate NBA impact). The even more impatient crowd would like to see a trade (that almost certainly would be a last-ditch effort to shake this team from its doldrums).
The more pressing issue is for Boston to find a way to produce a consistent effort despite the roadblocks it's encountering. The Celtics' Big 3 absolutely has to be better in big games like this -- one in which captain Paul Pierce was a game-worst minus-27 in plus/minus and Rajon Rondo was pretty vanilla (10 points, 6 assists, 5 rebounds, 4 turnovers over 34:12) despite the potential for a highly motivated outing with Chris Paul on the other side of the floor.
These are the types of games that Danny Ainge, the Celtics' president of basketball operations, is talking about when he says Boston's "resolve" is being tested. When the Clippers began to tear the game open early on, the Celtics couldn't stop the bleeding. Good teams find a way to limit the damage, which -- in the big picture -- is sorta what Boston has to do after this 14-14 start.
There are still 54 games left in the season, plenty of time to right the ship despite this seasick start, but it's going to take an increased level of focus. Yet again, these Celtics have to find that resolve.
The Celtics didn't have it on Thursday. Rivers has to figure out how to prevent it from coming and going, particularly in heavyweight battles. He shouldn't have to line the walls at Staples Center with bills to inspire his squad; the Celtics have to simply want it and be willing to work harder to fight through the adversity they've encountered.
"I know these players have it within them," Ainge said during his weekly appearance on Boston sports radio WEEI on Thursday afternoon. "I will never doubt that, because they've shown it time and time and time again what they're capable of."
Now it's time for them to show it again. Consistently.