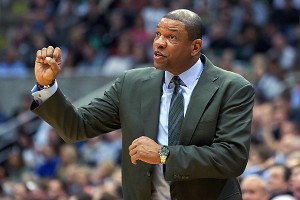 Russ Isabella/USA TODAY Sports
Doc Rivers and the Celtics wrapped up their grueling five-game road trip on a high note in Utah.Though a 2-3 mark isn't exactly what the Boston Celtics were hoping for out of a post-All-Star break five-game road trip, they ended things on a positive note with a 110-107 overtime victory over the Utah Jazz on Monday night that head coach Doc Rivers dubbed the "best win of the year."
In a seesaw game that featured 17 ties and 13 lead changes, the Celtics were able to grind through their 10th overtime affair of the season (6 wins, 4 losses) and 15th overtime session overall (including one triple-OT and three double-OT games), largely on the shoulders of Paul Pierce, who supplied seven of Boston's 13 points in the extra frame and 26 points, seven rebounds and eight assists overall. Kevin Garnett added 13 points and 10 rebounds for Boston.
"Whatever that is, it was the best win, for me, of the year," Rivers told reporters. "Five games, seven nights, five different cities, three time zones, just changing time zones. To gut it out, go into overtime and still have enough to win -- it's funny, at the start of the overtime I told Brandon [Bass], 'Go in for Kevin [Garnett].' Kevin wouldn't let me. He said, 'No, no, I'm good.' I didn't believe that, but I kept him in and he was terrific. Paul down the stretch just carried us. We found something we liked in the pick-and-roll with the spacing, and if they helped out, Kevin got the elbow shot. If they didn't help, Paul turned the corner."
Rivers admitted that Monday's win won't go down as a glamorous one. The Celtics had to sink their heels in and force the issue defensively, often resorting to a zone defense that featured a trapping scheme that not even Rivers could fully explain.
"I thought we junked the game up," Rivers said. "You know I'm not a fan of that, but we did it. We went zone, we started trapping all around the floor. And I just thought our trap was so bad it was good, you know? We didn't know what we were doing and they didn't know what we were doing, and I thought it created confusion, and it worked. But I tell you, the trap that we were doing, we had no clue what we were doing. It literally caused confusion for both teams, and it was good for us."
Rivers was also quick to praise guard Avery Bradley, who carried the Celtics early with some hot shooting and some aggressive defense on Utah point guard Earl Watson. Bradley scored 10 of Boston's first 15 points, added two steals in the opening frame, and finished the game with a season-high 18 points on 8-of-12 shooting.
"I mean, Avery's had a great five games, and forget whatever scoring. First of all, I thought to start the game, he gave us life with his scoring," Rivers said. "But I thought his defense was such a big factor. It took them so long to get into the set -- I mean, they were killing us in the beginning of the game on the post. So what we just said was, 'Guys, we're going to deny every catch, we're going to pressure the ball, and see how long before it takes for them to get to the post.' And it really helped us because we took so much clock off, they didn't have enough time to post us, and that was good."
The Celtics had the final chance to win in regulation, but their designed play for Kevin Garnett went awry early in the set, which forced Paul Pierce into a tough fading jump shot from the right wing that didn't drop.
"We were supposed to pin down on Kevin," Rivers explained. "Actually, I thought Paul could have turned the corner, but he was waiting for Kevin to come up, because we noticed on the small-small pick-and-roll the big was sinking in under the basket, and if [Jason Terry] rolls into Kevin, Kevin rolls up to that elbow, his sweet spot, we thought we could have got it. I don't know if you noticed, JET fell off balance and then he just kind of forgot it. I still didn't mind. Paul had it, and I just wanted to make sure we had the last shot."
Boston will happily settle for a grind-it-out victory, knowing it plays just one game over the next seven days. The Celtics will take Tuesday off before likely resuming things on Wednesday with some needed practice time and a chance to help integrate newer faces Jordan Crawford, Terrence Williams and -- eventually -- D.J. White.