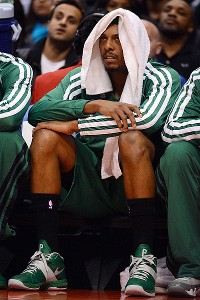 Harry How/Getty Images
The Celtics missed captain Paul Pierce on Tuesday night in Charlotte.If you take anything away from Tuesday's game, don't let it be what happened on the court as the Boston Celtics were flat-out embarrassed 100-74 by a lowly Charlotte team. No, Tuesday's effort only hammered home how valuable Paul Pierce, the one guy who wasn't on the floor, is to the Celtics.
After starting the first 62 games of the season, the 35-year-old Pierce got his first night off as Boston visited the cellar-dwelling Bobcats on the front end of a back-to-back. It should have been a harmless maintenance day, but an already anemic Celtics offense promptly posted a mere 74 points over 90 possessions, a shield-your-eyes offensive rating (points per 100 possessions) of 83.3 on a night where Kevin Garnett struggled again from the floor and no one else picked the team up.
To put Boston's feeble rating in perspective, the Celtics have posted a worse number only once this season: an offensively challenged 71-69 win over the Bulls last month (81.6 rating). Only five times this year have the Celtics even been in the 80s. For the season, Boston owns an offensive rating of 100, which ranks 23rd in the league. An 83.3 rating is nearly 13 points worse than what the 30th-ranked Wizards average for the year (96.1).
On Tuesday, the Celtics finished 27-of-66 shooting (40.9 percent) and mustered a mere 28 second-half points (although much of the fourth quarter featured a lineup with the Chinese Basketball Association All-Stars in recently added Terrence Williams, DJ White and Shavlik Randolph). Regardless, Boston struggled to generate consistent offense and it was hard not to notice who wasn't on the floor.
Rivers often describes Pierce as a professional scorer and games like this show just how much he means to Boston's offense. Even at his age, Pierce is far and away Boston's best offensive option and the team simply struggles when he's not on the court.
To hammer that home: The Celtics have averaged 101.9 points per 100 possessions in the 2,109 minutes Pierce has been on the floor this season. That number plummets to 96.3 in the 995 minutes he's been on the bench. What's more, Boston's team shooting numbers are remarkably higher when Pierce is on the court (46.7 FG%, 36.3 3PT%, 54.5 true shooting percentage) versus when he's not (44 FG%, 31.7 3PT%, 51.2 true shooting). Then there's the bottom line: Boston is plus-76 with Pierce on the floor, minus-88 when he's off.
There were those who were willing to ship Pierce to Brooklyn for the likes of Kris Humphries and MarShon Brooks. Others lamented a potential missed opportunity to send Pierce out and bring back the likes of Josh Smith. Pierce could be forgiven if he considered texting Celtics general manager Danny Ainge last night to remind Ainge he made the right decision by not moving him at the deadline.
Rivers often contends that Pierce could play until he's 50 and still find a way to score consistently. Just last week Pierce earned a nomination for Eastern Conference player of the week while averaging 19.5 points on 49.1 percent shooting as Boston went 3-1 -- beating a pair of potential playoff foes in Indiana and Atlanta.
And we're just focusing on scoring here. The Celtics clearly missed Pierce's rebounding on Tuesday night and he has repeatedly flirted with triple-doubles recently while upping his distribution numbers in the absence of Rajon Rondo.
We could ramble on, instead we'll simply direct you back to colleague Jackie MacMullan's piece on Pierce from this past weekend. After Tuesday's game, Jeff Green's quote only rings truer: "Honestly, I don't understand why Paul hasn't gotten more credit. This is a stage of his career where he's supposed to be pulling back, and instead he's leading us in just about every way."
Without their captain, the Celtics veered way off course on Tuesday. Sure, Charlotte is the type of team that any playoff-bound opponent would struggle to get up for (though most haven't had much of a problem dispatching the 'Cats as the Celtics) and you can't absolutely rule out the possibility that even Pierce couldn't have saved them from laying an egg.
But he would have been a calming force for an out-of-sync offense. Pierce would have been another body to throw at Gerald Henderson as he erupted for a career night. Things likely wouldn't have been as lopsided in the rebound column (a 48-29 edge for Charlotte) if Pierce were there to help crash the glass.
The good news for the Celtics: another game awaits on Wednesday night back in Boston. Better yet, they'll have a fresh Paul Pierce on the court to guide them and chances are the offense won't look nearly as etiolated as it did on Tuesday night.