The Celtics knew going into Monday's showdown with the Miami Heat that they couldn't afford to turn the ball over, but that knowledge alone wasn't enough to prevent them from doing it.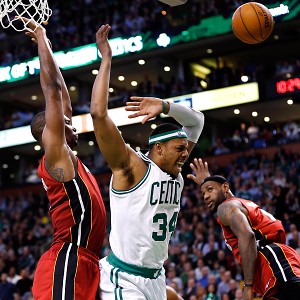 Greg M. Cooper/USA TODAY Sports
Paul Pierce and the Celtics couldn't always keep their handle on the ball on Monday night.Boston committed 21 turnovers in Monday's 105-103 loss -- one off their season-high -- and the Heat happily converted those into 24 points. In a game in which the Celtics led by as may as 17 at one point -- and by 13 in the fourth quarter -- the miscues that resulted in the ball switching sides stuck out most to the losing party.
"We've just got to take our time," said Paul Pierce, who registered a team-high seven turnovers. "I thought we tried to force things, got a little anxious at times, and that's their game. The Miami Heat, they force turnovers, they get easy buckets, and you can't really do that against them because they're so good in transition and finishing. We gave up (24) points off our turnovers, that's devastating, especially against the best team in the NBA."
Both halves saw Boston equally guilty of errors -- the C's committed 11 of their 21 miscues over the first 24 minutes (good for 14 Miami points) and the final 10 in the second half. Knowing they lent a helping hand to 24 of Miami's points didn't sit well with the veterans afterward.
"Well, we're disappointed, obviously," Jason Terry said. "You have a 10-point lead in the fourth quarter, you've got to get the job done. And so, we had a lot of mistakes that we made offensively and defensively that are correctable errors. So, we've just got to get back in here and grind."
Some stretches proved to be more costly than others, such as the tail end of the first half when back-to-back offensive fouls from Pierce and Terry with the Celtics up 13 turned into four points for Miami and helped the Heat gain momentum and get within six at the break.
But Miami didn't always wait around to have several of Boston's possessions end up in its grasp. Give the Heat credit for giving Boston a taste of its own medicine, as the Miami guards weren't shy about pressuring Avery Bradley and Courtney Lee -- Boston's self-described defensive "pitbulls" -- as they tried to maneuver the ball across half court. C's head coach Doc Rivers implored his team to run at every opportunity to limit Miami's ability to set itself defensively and battle for turnovers, but at times Boston's back court found itself at the mercy of the Heat guards.
Lee said afterward that the Celtics will have to be braced for that type of pressure moving forward, so as not to be coerced into turning the ball over so easily.
"Certain teams pressure just like we pressure and they did," Lee said. "So many teams aren't just going to allow us to pressure them and not retaliate, so we'll look forward to that. As the season gets closer to playoff time more teams are going to start doing that, because every possession counts."
Boston had struggled in the turnover department in several games prior to Monday's matchup. But while they were able to overcome them against the Golden State Warriors (17 turnovers), Philadelphia 76ers (22 turnovers), and Atlanta Hawks (15 turnovers), the Heat proved to be too much with those kinds of miscues in play.
Lee stressed every possession counting, and the Celtics once again learned that the hard way on Monday.