Welp, that week couldn't have gone much worse for the Celtics.
Boston lost four games in six days, culminating with Saturday's 110-106 loss in Memphis to cap a winless three-game road trip. The Celtics didn't just lose four games; they had two starters sidelined by injuries by the end of the week as Kevin Garnett and Courtney Lee sat out Saturday's game and may require further testing as the team returns home.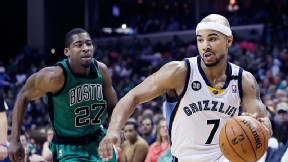 AP Photo/Danny Johnston
Jordan Crawford and the Celtics struggled to contain Jerryd Bayless.Sunday will be one of those pull-the-covers-over-your-head-and-go-back-to-sleep mornings for Boston players. The team has the day off after playing a back-to-back and it's an ideal chance for the Celtics to snooze away their troubles. If trainer Ed Lacerte's number pops up on coach Doc Rivers' cell phone, he probably ought to just send the call to voicemail. It's simply been that sort of week.
A quick refresher on the week that wasn't:
* Boston watched the streaking Heat rally from as much as a 17-point hole and LeBron James' jumper over Jeff Green with 10.5 seconds remaining lifted Miami to a 105-103 triumph at TD Garden, pushing the Heat's winning streak to 23 games and snapping Boston's 11-game home winning streak.
* Opening a three-game road trip against Western Conference cellar-dwelling New Orleans, the Celtics sleepwalked for 3½ quarters before mounting a furious late-game charge. It was all for naught, however, as rookie Anthony Davis soared over Garnett, who had sat out the previous two games due to illness and a thigh injury, for the winning tip with 0.3 seconds remaining in an 87-86 triumph.
* A Mavericks team that will likely see its 12-year playoff streak snapped this season spoiled Jason Terry's homecoming as Brandan Wright put up a game-high 23 points and Dallas emerged with a 104-94 triumph. Boston's defense often looked disinterested and the Celtics got outworked in the 50/50 game. Adding injury to insult, both Lee and Garnett sustained ankle injuries that would keep them off the floor in Memphis.
* With a random hero emerging in every city they visit, the Celtics this time saw fourth-year journeyman Jerryd Bayless erupt for 30 points on 11-of-20 shooting as the Marc Gasol-less Grizzlies leaned on their offense for a change while fending off a late Boston charge for a 110-106 triumph.
The Celtics are 12-23 away from TD Garden this season, the worst road record among all playoff opponents (barely edging the Lakers, who are 13-22). In the East, no other playoff team has less than 15 road wins.
There's been definite slippage in the team's defense, and Boston has displayed inconsistent energy at both ends of the floor. There's an awful lot to clean up when the Celtics get back on the practice court on Monday.
With 13 games remaining, the Celtics own a 1½-game edge over eighth-seeded Milwaukee, while any remaining hopes of climbing the East playoff ladder likely hinge on how Boston performs the next seven days, with two games against the currently second-seeded (and Atlantic Division-leading) Knicks, along with a a visit from the fifth-seeded Atlanta Hawks on Friday.
After Saturday's loss, Rivers tried to maintain an even keel.
"I wish we had played better [on the road trip]," sighed Rivers. "The New Orleans game set up the trip, in my opinion. We gave that away. It's amazing how spirit goes. To me, if you win that game, I don't know if you win either of the next two, but you're in a better mindset. When you lose a game like that I think it makes you feel bad and sometimes you play that way."
Individually, few Boston players will feel good about these past four games.
Jason Terry's week saw him get dunked on hard by LeBron James against Miami, go scoreless versus New Orleans and have his homecoming ruined in Dallas on Friday. Then he missed a pivotal free throw in the closing moments Saturday that might have given Boston a chance at a game-tying shot.
Jeff Green poured in 43 points in a spot start against the Heat on Monday, but faded fast after a quick start in New Orleans, spending the rest of the week trying to do more than blend into the scenery.
Jordan Crawford might be the one player who actually benefited from Boston's struggles. Given extended minutes throughout this road trip, Crawford responded with energy each time and has settled in as the "wild card" that Rivers has so desperately craved after losing Leandro Barbosa to a season-ending ACL injury. Crawford registered 21 points over 27 minutes to fuel Saturday's late-game rally.
If Boston is grasping for silver linings, maybe it can find something in the way the team responded late in the game against Memphis. Maybe the way the Celtics fought through adversity on Saturday could be a bit of a guide for grinding through this current funk.
"I thought our guys met my intensity, and that's all I want every night," said Rivers. "I want to win every night. I don't care who's out on the floor. I want our guys to believe they can win every night."
The Celtics always seem to believe they can win. After hitting a rough patch this week, they've simply got to find a way to win again when everything seems to be going wrong.