It's virtually impossible to ignore the negatives.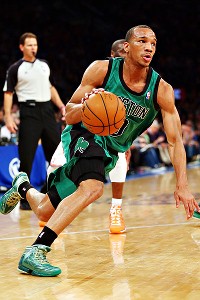 Elsa/Getty Images
Avery Bradley put together a quality offensive performance in Minnesota.The Celtics have lost seven of their last nine games and six of their last seven on the road. Boston's defense has regressed considerably, particularly with Kevin Garnett sidelined due to left ankle inflammation the past six games, and Boston has surrendered triple-digit output in six of its last seven outings.
Even playing without their stars -- as Boston did on Monday night in Minnesota without Garnett and Paul Pierce, who wasn't with the team due to personal reasons -- the Celtics should be better than what they've shown. Alas, Boston gets some benefit of the doubt -- even as the losses mount -- because of how shorthanded it has been and even the most critical of observers has to focus on the individual gains over the team accomplishments. That's not to absolve Boston from its woeful team play, but the focus over these final games is clearly not on identifying new lineup combinations.
So if you're looking for one silver lining to help forget how Nikolva Pekovic shredded Boston's interior defense Monday night, scoring 21 of his game-high 29 points in the first half, remember that Avery Bradley scored a team-high 19 points on 8-of-14 shooting and showed encouraging signs of emerging from his offensive funk.
Once dubbed the Celtics' savior for spearheading the team's turnaround with his defensive efforts, Bradley is now relegated to the second most popular athlete in town with the surname Bradley (nice debut, JBJ). He's slumped badly over the last three weeks, averaging 7.6 points while shooting 32.3 percent from the field (43 of 133) and 30.8 percent from beyond the 3-point arc (8 of 26) over a 13-game span starting March 6 in Indiana.
So determined to pull Bradley from his slump, the Celtics have designed their first offensive play of the game to go through him -- a rarity -- in recent outings. Coming off a Chris Wilcox screen on the left wing on Monday night, Bradley drilled a 19-foot jumper 17 seconds in and it sure seemed to light a wet fuse.
Bradley finished 8-of-14 shooting (57.1 percent) with 19 points -- his first double-digit scoring output since the Bobcats visited on March 16 -- to go along with two assists over 30:19.
"I think that's five games in a row we've run the first play for him," Celtics coach Doc Rivers said. "And finally he came up with a jumper. I just really believe he needed it to go in, that shot. I told him after the game, his arc was back on his shot, it wasn't flat. So that was good to see. I think that will make him a better defender too; he'll be able to relax."
After missing the first 30 games of the season while rehabbing from double shoulder surgery, Bradley's return helped Boston get back to being a defense-first team. Even though his recent offensive woes have contributed to a slight defensive dip, Bradley still tops the NBA in individual defense (among those with at least 400 possessions defended), allowing 0.698 points per play, according to Synergy Sports data. Opponents are shooting a league-low 31.1 percent against him.
Bradley's offense, however, has been sporadic at best this season. According to Synergy data, he averages 0.8 points per play, which ranks in just the 23rd percentile. Even as he incorporates an emerging corner 3-pointer to his arsenal, he's only shot 34.1 percent from that spot and he's struggled at times to finish near the rim (a potential byproduct of building back his upper body strength after the surgeries).
Bradley, a third-year guard, is shooting 42.4 percent from the midrange and that's where six of his eight field goals came from on Monday. Only one other time this season has Bradley had more than eight field goals in a game (10 versus Philadelphia on March 5). There's encouraging signs he's emerging from this funk.
The Celtics absolutely need Bradley firing on all cylinders -- at both ends of the floor -- when the playoffs arrive. Boston knows what it's going to get out of veterans Pierce and Garnett -- so long as they are healthy -- and there's hope that ring-wearing veteran Jason Terry will further elevate his game. But Jeff Green and Bradley are the true X-factors.
Bradley can single-handedly change the complexion of the game with his defense. Boston knows that it's likely he'll be fine at the end of the court when it matters most. But the Celtics need Bradley's offense as well.
And they'll do whatever it takes to get him going. That's far more important right now than the final score.