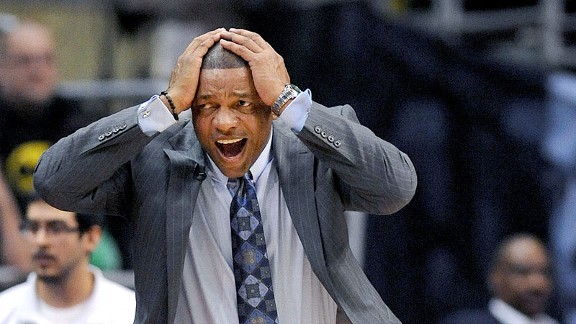 Jayne Kamin-Oncea/USA TODAY Sports
Doc Rivers is finally off to Los Angeles to coach the Clippers.Rapid reaction after the Boston Celtics and Los Angeles Clippers agreed in principle to a deal that will send coach Doc Rivers west in exchange for a future first-round draft pick.


• The nitty gritty: After eight days of on-again, off-again negotiations, the Clippers will send Boston a 2015 first-round pick as compensation for letting Rivers out of his contract, which has three years and $21 million remaining (from the initial five-year, $35 million pact he inked two summers ago). Los Angeles will then sign Rivers to the same terms of his remaining deal to insert him as its next coach.
• Rapid reaction: Thank goodness it's over. Really, what more needs to be said? After these zombie talks came back from the dead roughly four times over an eight-day span, both sides needed some closure, and now the Celtics and Clippers can (finally!) move forward. Neither side comes out of this process looking particularly swell, but at least the circus-like atmosphere of these bluff- and posture-heavy negotiations are over, barring a last-minute curveball, and can we really rule that out in this process? The Clippers have the coach in place they believe can push them over the hump in the Western Conference, while the Celtics begin the process of rebuilding with a valuable future asset.
• What's next? The Celtics are expected to shut the door on this process Monday with a news conference. From there, Celtics president of basketball operations Danny Ainge will turn his attention to the other pieces remaining from Boston's championship core, namely Paul Pierce and Kevin Garnett. Pierce's 2013-14 contract is only $5 million guaranteed through June 30, but as an expiring contract, even his full $15.3 million price tag still makes him a desirable asset for a contender, especially since he has an expiring deal that comes off the books after the season.
Garnett originally was expected to be a piece of the outgoing package with Rivers, but the league -- suspicious of the appearance that the teams were circumventing the collective bargaining agreement by making two separate trades that were contingent on each other -- smothered an incarnation that could have brought DeAndre Jordan to Boston. If Boston and L.A. can't push through another deal, the Celtics might have to examine other options for Garnett. Yet again, he has immense value to a contender because of his modest salary ($12.4 million) and the strong possibility that this will be his final NBA season (though the final year of his contract is only partially guaranteed anyhow). From there, Boston can assess the future of its young core and whether the likes of Rajon Rondo and Jeff Green are building blocks for the next generation of this team as it tries to restore itself as a true contender.
And the Celtics need a coach (unless Ainge wants to handle both tasks and really save the team some cash). Brian Shaw and Vinny Del Negro are the names that have seemingly cropped up most often in speculation about future coaches, and Boston would seemingly eye a coach who can get the most out of young players and help their development.