In April 2012, with the lockout-shortened regular season winding down, then-Boston Celtics coach Doc Rivers greeted veterans Paul Pierce and Kevin Garnett with some good news following a win in New Jersey: The duo was being left behind in New York while the rest of the team continued on to Charlotte.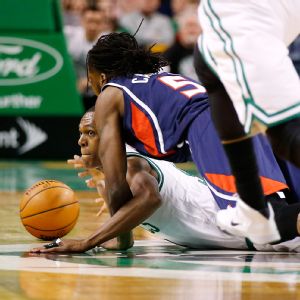 David Butler II/USA TODAY Sports
Rajon Rondo's diving hustle play sparked the C's to their win over the Hawks, says coach Brad Stevens.The Celtics, playing four games in five nights and in the midst of one of those back-to-back-to-back lockout anomalies, were scheduled to visit the Knicks two nights later, so Pierce and Garnett -- knowing they would not play in Charlotte -- got a mini in-season vacation at the team's hotel in New York City.
Rajon Rondo greeted the opportunity as a chance to show what he could do without his Big Three brethren (Ray Allen was sidelined at the time because of an ankle injury) and responded with 20 points, 16 assists, six rebounds and a steal over 43-plus minutes while pacing Boston to a win over the Bobcats. No one fretted the absence of Pierce and Garnett that night.
Fast-forward 22 months, and a buzz lingers around whether Rondo, not scheduled to play on the second night of a back-to-back, made the right decision to skip a recent trip to Sacramento while celebrating his 28th birthday last Saturday in Los Angeles.
We recall the story of Garnett and Pierce not to absolve Rondo from blame. We've maintained that, in the fallout from his absence, Rondo could have easily defused the entire situation by publicly noting that he did not intend to disrespect his teammates or the coaching staff with his decision not to travel.
But it's merely a reminder that, as bad as Rondo's decision looked, it's not without precedent. You can make a case that Rondo has grown up in a Celtics organization where players and coaches have often utilized small breaks in the action to indulge themselves, including Rivers, who coddled his veterans and often diverted from the team to watch his children's athletic endeavors, including son Austin's lone season at Duke that same year.
Boston Celtics president of basketball operations Danny Ainge said Friday that he has closed the book on Birthdaygate after a lengthy phone conversation with Rondo on Thursday in which Ainge emerged satisfied that both sides learned from the incident.
While Ainge wouldn't discuss whether Rondo actually erred in his decision, or if he was fined if he did, Ainge did hint that the consternation about Rondo's action this week might have been a wee bit overblown and it in no way diminished Rondo's ability to lead these transitioning Celtics.