BOSTON -- In the Boston Celtics' crowded frontcourt, the next opportunity is never guaranteed, particularly for those on the back side of the depth chart. It's part of the reason veteran Kris Humphries initially played through the pain of a sore right knee that needed to be drained and caused him to miss a couple of games.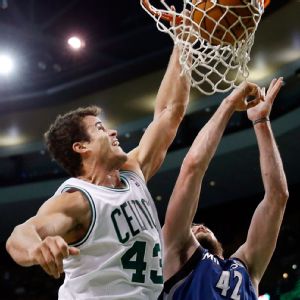 AP Photo/Michael Dwyer
A Kris Humphries dunk at the end of the third quarter helped send the Celtics on their way.Humphries returned to the active roster on Monday night, but during his absence, rookie Kelly Olynyk had returned from an ankle injury, further muddying the rotations. As has been the case for much of the season, Humphries didn't know how much floor time he'd receive against the Minnesota Timberwolves.
Foul trouble for Brandon Bass pressed Humphries into extended service, and he responded by registering eight points and seven rebounds over 21 minutes while helping the Celtics to a 101-97 win at TD Garden.
Oh sure, Jared Sullinger hit the big shot (a straightaway 3-pointer with 2:22 remaining to break the game's final tie) while scoring a team-high 24 points, and Olynyk chipped in nine points over 13 minutes. But Humphries' workmanlike effort shouldn't go unnoticed. He finished a team-best plus-14 in plus/minus, Boston thriving in the second half when Humphries was on the floor.
"That's the hardest thing in the NBA: being ready to play, staying ready, mentally and physically, all those things," Humphries said. "Our staff does a great job of preparing us and working with us."
Humphries is in a bit of a unique situation as the highest-paid player on the roster ($12 million this season). His acquisition this offseason as part of the Brooklyn Blockbuster was met with eye rolls by those who judged him more by his exploits off the court than on.
What's often ignored regarding Humphries is that he was a double-double player for much of his time with the Nets. His production dipped when his playing time evaporated last season, but those who watched him promised he'd always be ready for his next opportunity.
In five appearances for the month of December, Humphries is averaging 8.2 points and 6.2 rebounds over 21.2 minutes per game. He's shooting 60 percent from the field, and Boston is plus-56 in his 106 minutes of floor time in December.
This isn't just a five-game trend. Good things are happening when Humphries is on the court. Boston owns an offensive rating of 108.1 when Humphries is on the floor this season, and it drops to 97.4 when he's off. Boston is plus-43 overall in his 288 total minutes of action but minus-63 in the 960 minutes he's on the bench.