BOSTON -- Boston Celtics coach Brad Stevens watched the Toronto Raptors rally from an 18-point deficit to make it a one-possession game with 14.4 seconds to go, and his team used its last timeout after being thwarted in its first attempt to inbound the basketball.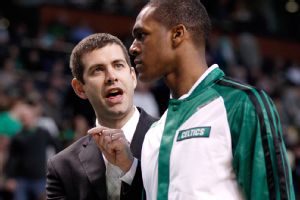 Greg M. Cooper/USA TODAY Sports
With Rajon Rondo ready to return, Brad Stevens will be coaching a new-look Celtics team.There, on the Boston bench, just a couple seats down from Stevens sat Rajon Rondo, the All-Star point guard who was activated Wednesday night for the first time since tearing his ACL nearly one year ago. But Stevens, his available bodies thinned by a trade earlier in the day, fought any temptation to utilize Rondo to simply put the ball in play.
"Well, we were up three with no timeouts trying to get the ball in bounds and one of the best passers in the world is sitting right next to me, so no [there was no chance Rondo was going in for emergency duty]," said Stevens. "I told [assistant coach] Jay Larranaga that he was next, and [assistant coach] Walter [McCarty] was right after him, depending on what we needed. So that was the way we were going to roll tonight. Those guys were kind of excited about it."
Despite the Celtics' coy nature and Rondo's not-so cryptic tweets, all signs point to Rondo making his 2013-14 season debut on Friday night when the rival Los Angeles Lakers visit TD Garden.
Rondo essentially went through a dress rehearsal on Wednesday night, suiting up and going through pregame drills before watching the Celtics snap a nine-game losing streak with an 88-83 triumph over the Atlantic Division-leading Raptors.
During the pregame layup line, Avery Bradley spotted Rondo and got goosebumps. Even though everyone is well aware of his impending return, it was still striking to see Rondo back on the floor on the cusp of returning to game action 11 months after ACL surgery.
"It felt funny, because it's been so long," Bradley said, a smile forming. "I'm just super excited for him."
Bradley talked about getting a win to help usher in the return of Boston's All-Star point guard, then caught himself a bit and stuck with the company line that no one knows for sure when Rondo will return.
But, make no mistake, Bradley is giddy for that moment. He doesn't want to put too much pressure on Rondo, but Bradley thinks he's going to perform well right out of the gates and, most importantly, Bradley knows Rondo will make his teammates better.
"I know he's a great player," said Bradley. "One thing I can say is, when he does come back, he's going to make it easier on everybody. I'm just excited."