BOSTON -- On the day Jared Sullinger got invited to what the NBA calls its Rising Stars Challenge, Boston Celtics coach Brad Stevens offered his own rising star challenge.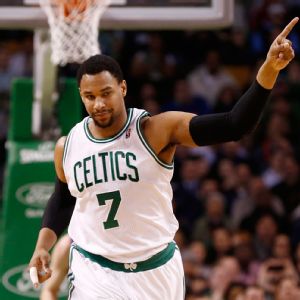 Mark L. Baer/USA TODAY Sports
Jared Sullinger is the only Celtics regular on the positive side of plus-minus, with the team as a whole at minus-206.With Boston mired in an extended losing funk, Stevens asked Sullinger to take his game to a higher level and cement himself as a leader of a Celtics team that isn't afraid to lean on him despite his age.
The 21-year-old Sullinger responded by putting up game highs with 24 points and 17 rebounds, but he could only watch as Evan Turner's contorted floater at the buzzer lifted the Philadelphia 76ers to a 95-94 triumph Wednesday night at TD Garden.
The Celtics (15-33) have lost four straight and 19 of their last 22. With Wednesday's loss, they flip-flopped positions with Philadelphia and assumed the third-worst record in the NBA.
Sullinger has been one of Boston's bright spots in a season filled with struggles, hammered home by his invitation to the league's annual rookie/sophomore mixer as part of All-Star festivities in New Orleans in mid-February.
Playing out of position given the Celtics' absence of a pure center, Sullinger is averaging 12.8 points and 7.8 rebounds over 26.6 minutes per game. With the team's struggles, he is the only regular that remains in the positive in plus/minus at plus-7. It's a staggering stat considering that Boston is minus-206 as a team and the other most frequent frontcourt starter, Brandon Bass, is minus-240 for the season.
What's more, Sullinger is playing with both a bruised hand and a dislocated index finger on his shooting hand -- an injury that popped out of place again during Wednesday's loss.
Stevens wouldn't demand more out of Sullinger if he didn't know he was capable of it. The Celtics desire more consistency at both ends of the floor, something that will only help Sullinger further blossom into the superstar they seem to believe he can become.
"First of all, I did say, 'Hey, I realize you're playing through the hand and the finger,' because he's a tough guy, he wants to play, he likes to play and I value that, and I think highly of him for that," Stevens said. "And one of the things that I just challenged him on is not having to accept being a [21]-year-old in the league.
"We are in a unique situation in that we're asking some of our young guys to be almost leaders, and almost more vocal in their approach. My talking point with him was, 'I know you're [21], but you're a mature basketball player, you know the game, and for our team to grow we need for you to maybe play and be a few years ahead of where you are.' And it's not fair to him, but it's a great opportunity for him, so that was my challenge to him."