BOSTON -- Rajon Rondo doesn't always let opposing players help his teammates up off the floor -- just last Saturday he pushed Indiana's Roy Hibbert out of the way to peel Jeff Green off the parquet on his own. But there are exceptions.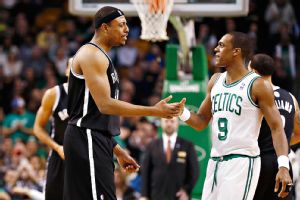 Winslow Townson/USA TODAY Sports
Paul Pierce exchanged pregame pleasantries with Rajon Rondo before offering a rare in-game assist.Like when it's old friend Paul Pierce sticking out his hand to pick Rondo up after putting him on the floor late in the first half of Friday's Celtics-Nets tilt at TD Garden. Fans roared and Pierce smiled wide after he pulled Rondo up and patted him on the rear.
Just the former captain looking out for the new one.
A couple hours later, in the still-odd confines of the visitors' locker room, Pierce praised Rondo while assessing the new captain's ability to lead Boston back to contender status.
"In the end, me and Rondo share a special bond," said Pierce. "We'll always be friends, we'll always have something in common with our championship, our kids still hang out together."
Amid the heartfelt words came a brief moment of levity.
Pierce said their children "hung out for [Rondo's] birthday, actually," giving himself a good belly laugh knowing full well the hoopla that ensued in these parts after Rondo skipped a trip to Sacramento last month to celebrate his birthday in Los Angeles.
Turning serious again, Pierce offered, "Rondo, I respect him and what he's doing moving forward with this franchise and it will always be that way."
If the Nets' January visit was one of emotion and indulgence for Pierce, this time around it was all about his former squad. Pierce and the Nets were ice cold shooting and the Celtics overcame their own sloppiness to emerge with a 91-84 triumph.
Pierce said it's always emotional returning to Boston, but that this visit couldn't compare to his first game back in a Nets uniform. He savored that night and the tribute video that rolled, allowing him to reflect on his 15 seasons with the Celtics.
This time around, Pierce spent most of his postgame chat with reporters gushing about Rondo and Boston's future.
"They are a young team, they got a mix of some veterans, some young guys they are developing and they are only going to get better," said Pierce. "Rondo is leading them right now, moving into the next generation of Celtics. I think their future is going to be very bright."