BOSTON -- When Rajon Rondo name-checks his small circle of NBA friends, Josh Smith typically helms a list that rarely includes another player who hasn't worn green.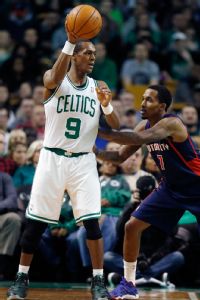 AP Photo/Michael Dwyer
Rajon Rondo took excellent care of the ball against Brandon Jennings and the Pistons.Before the Boston Celtics hosted the Detroit Pistons on Sunday night at TD Garden, Smith was peppered with questions about the man he calls his "best friend," including how Rondo looks as he works his way back from ACL surgery.
"I've been watching some games with him playing and it looks like he's doing pretty well," Smith said.
Rondo did better than pretty well on Sunday as he handed out a season-high 18 assists and did not turn the ball over while pacing the Celtics to a 118-111 triumph.
Only 10 times over the past three decades has a player registered 18 assists and zero turnovers in a regular-season game. The list includes point guard royalty such as John Stockton, Isiah Thomas, Jason Kidd and Steve Nash.
The idea that there's an even greater level for Rondo to ascend to as he gets healthy should be enough to leave Celtics fans salivating. On this night, Rondo added 11 points and three steals over 33 minutes. But it was the way he directed the offense that resonated, particularly after the Celtics committed a season-high 28 turnovers during Friday's win over the Brooklyn Nets with Rondo giving the ball away seven times that night.
"I made a conscious effort to do a better job of taking care of the ball," Rondo said. "Me being the point and having the ball so much in your hands the entire game, it starts with you."
It started with Rondo, but often ended with one of his teammates. The Celtics generated a whopping 38 assists on 47 made baskets on Sunday. And Rondo absolutely owned the floor.