BOSTON -- A fan clad in Boston Celtics green, possibly intoxicated but maybe just punch drunk from watching the lowly Philadelphia 76ers jab away at his favorite team, shuffled his way through the media riser to get to the railing that abuts the tunnel leading to the locker rooms and unloaded on Boston players as they walked by.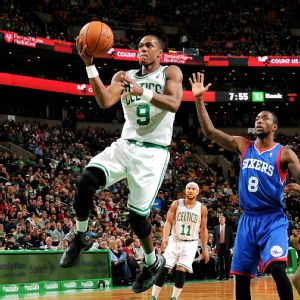 Brian Babineau/NBAE/Getty Images
Not even Rajon Rondo's triple-double could save the Celtics.Where's the anger? You just lost to Philadelphia! Somebody get mad!
A security guard tried to pull the fan back, but he got in a few more screams for good measure. Hey, he probably paid good money to come see what should have been the most surefire of wins this season. Instead, the Celtics endured a 111-102 loss at TD Garden, their seventh straight defeat and 12th in their past 13 games.
For the Silver Linings Club, the Celtics maintain the fourth-worst record in basketball with six games to play and got a bonus when the Utah Jazz topped the New Orleans Pelicans to move a game ahead of Boston, but even those fans who were worried about how a win might cause the team to climb a bit in the standings walked away shaking their head at this loss.
On a night when Rajon Rondo produced his first triple-double (11 points, 16 assists, 11 rebounds) since the game he tore his ACL, the Celtics were done in by the likes of Philadelphia rookie Michael Carter-Williams (24 points, six assists, six rebounds) and well-traveled second-year center Henry Sims (24 points, nine rebounds) as the 76ers won for just the second time since a Jan. 29 triumph here at the Garden.
Let that sink in for a bit: The Celtics have lost twice at home to the 17-win 76ers this season. Philadelphia can win the season series when the teams meet again at Wells Fargo Center in 10 days.
Rondo said that usually even-keeled coach Brad Stevens had a little extra fire after Friday's loss.
"He ripped us a little bit more than usual," Rondo said. "That's part of it; we deserved that tonight."
Even Rondo, who suggested last week that losing doesn't affect him much, admitted that losses like this are unacceptable.
"We're all professionals. We have to do a way better job than what we've been doing as far as performing for the name across our jersey, on the front and the back," he said.
Later, Rondo added, "We have everything to play for. We have pride. I have pride. We have pride as a team. We have Celtic pride. Right now we're not displaying it at all."
The Celtics watched Philadelphia shoot 50.6 percent from the floor, and Sims -- now with his fourth NBA team in less than two seasons in the league -- lived at the free throw line (18 attempts for the game, nearly half of the 76ers' 37 total attempts). The Celtics, sleep-walking despite Rondo's triple-double, trimmed a nine-point deficit to three with six minutes to go in the game, only to watch Williams score Philadelphia's next seven points, and Thaddeus Young added consecutive buckets as the 76ers went up 10 with two minutes to play.
An exasperated Stevens tried to put the loss on himself. "We're not pulling in one direction right now, and that's got to be the responsibility of the head coach," he said.
But Stevens' disappointment in his team was obvious. After a series of narrow losses, the Celtics got blown out in Washington on Wednesday night. Before his team played the tank-or-bust 76ers on Friday, Stevens noted how important it was for his team to simply play well.
Then, the Celtics went out and committed 22 turnovers and seemed ambivalent about playing defense.
Stevens was asked if maybe his players could see the finish line with only 12 days remaining in a frustrating 2013-14 campaign.
"That may be the case," he admitted. "I hope that's not the case. I said in [the locker room], 'I'm going to swing, swing hard until 10 or 10:30 [p.m.] on April 16 -- our last game -- and I want whoever's going to swing -- let's go. Let us play. Let's get after it.' It is a long year, but sometimes, you need to dial yourself back to 'it's a game that you really enjoy.' And take the outside pressure off, take the how-you're-playing-the-last-game off, and just play with a clear mind and with freedom. … We need to do that with the last six games. We need to play better than we've played the last two. I've got no problem with our effort prior to these two, but these two, we got the result we deserved."
Inside the locker room, team captain Rondo said he was undecided how exactly he would address the struggles with his teammates. In his defense, how much good could come from, say, a players' only meeting with such little time remaining in the season? Rondo said players simply needed to look in the mirror and give everything they can over the final six games.
Stevens was asked how long he dwells on performances like Friday's loss and offered another glimpse into how much these losses eat away at him.
"Somewhere around forever," he answered. "I don't have a 24-hour rule. I probably should. I can tell you about every single one of my losses at Butler, and I could probably go through every single one this year."