BOSTON -- Paul Pierce was coming home, but if the pillars have been removed and the foundation has been replaced, is it still his house?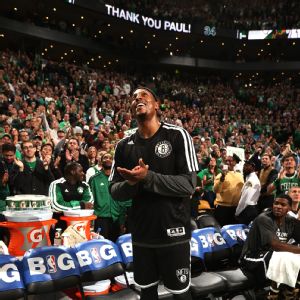 Nathaniel S. Butler/NBAE/Getty Images
Paul Pierce salutes the Boston crowd after a tribute video to him was played.The answer, in a TD Garden awash in memories and emotion, was unequivocally yes.
A capacity crowd pulsing with energy and nostalgia embraced both Pierce and his trusted friend Kevin Garnett upon their first return to Boston since they were traded to the Brooklyn Nets last July.
On this night, the performance of their plucky Celtics team was of secondary importance. The fans not only cheered wildly as video tributes for each future Hall of Famer unfolded on the video screen high above the court (including a young woman who sobbed during the montage of the Truth's greatest moments), they celebrated every time Pierce touched the ball, passed it to a teammate or simply checked into the game.
They even saluted him when he was on the bench. One of the more surreal moments of Sunday's lovefest was when chants of "Paul Pierce" wafted through the building as Celtics forward Kris Humphries tried to shoot a pair of free throws for the home team.
It was not without irony that Humphries was one of the players traded for Pierce, although the real haul was the future first-round draft picks, the promise of a new day. That's what convinced Danny Ainge to ship Boston's second all-time leading scorer out of town.
It was a devastating blow to a proud, proud man who thought he'd earned the right to stay forever.
It was never his intent to step onto the parquet in black-and-silver Brooklyn colors, to dress in the opposing dressing room, to try to beat the only franchise he'd ever known.
"This was the toughest game I've ever had to play," Pierce conceded. "Tougher than any championship, tougher than any Game 7."
Although Pierce and KG had mentally prepared themselves for this trip and the inevitable emotional tug of war it would entail, it was completely and utterly disarming. All those No. 34 and No. 5 jerseys, all those "Celtic for Life" signs, all those standing ovations. How were they expected to concentrate?