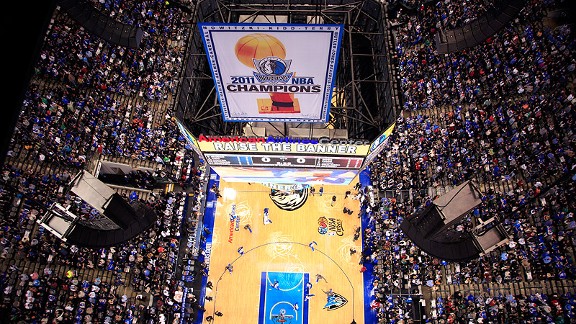 Glenn James/NBAE/Getty Images
The Mavericks were analyzing motion sensor data in their 2010-11 championship season.An interesting read from our friends at ESPN Playbook on motion sensor data that's being tracked now, including some Celtics references. A sample:
Think of a stat within the boundaries of a game. Seriously. Any stat. Doc Rivers tried. He asked the Celtics' stat guy, Mike Zarren, what the Celtics' offensive efficiency was when Rajon Rondo held the ball for more than five seconds on a possession. At the time, Zarren didn't know. Now he knows.

SportVU tracks every player movement, every pass, every shot, every touch -- everything. At this point, it tracks more information than teams know what to do with. Every executive interviewed for this article agreed they weren't even using 10 percent of the information this system could provide. And they all agreed this is the future of advanced basketball analytics.

Here are a couple facts we learned from SportVU from this season:

* Paul Pierce averaged 4.5 assists this season, which is pretty good for a scoring wing. But that number doesn't tell the whole story. According to SportVU, Pierce's teammates shot a higher percentage after his passes than any other player in the NBA. This shows Pierce is passing at the right time -- he's giving his teammates mostly layups and open shots.
Hop HERE to read the full story.