WALTHAM, Mass. -- Many of the draft hopefuls that the Boston Celtics have brought in over the past three days have been pinballing across the country. Someone like projected first-round pick Clint Capela of France was in Phoenix on Monday -- after previous stops in Memphis and Houston -- before flying to Boston for Wednesday's session.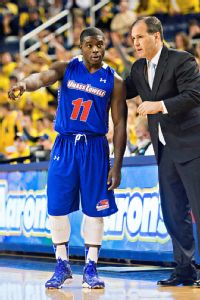 AP Photo/Tony Ding
Akeem Williams led UMass-Lowell in scoring during the team's first year at the Division 1 level.Akeem Williams? He was lying in bed on Monday when he got a call asking him to join the Celtics' six-man workout on Wednesday. He checked the number on the phone to ensure it wasn't a prank, then sprinted to the gym.
Tugging on his Celtics practice jersey while still trying to catch his wind after enduring the team's infamous sprint drill to close out Wednesday's workout, Williams beamed about the opportunity to join the pre-draft session.
"It's a little bit shocking, honestly," said Williams, who is not projected to be drafted. "I really never expected this, so when I got the call, I knew I wanted to continue playing and I knew it was something that I've wanted to do my entire life. I was laying in bed when I got the call, just watching TV, and as soon as I got off the phone I went to the gym."
Williams is a 5-foot-10 combo guard who played a starring role as UMass-Lowell made the jump to Division 1 hoops this season, leading the team in scoring. The Brockton, Mass. native starred at nearby Avon High School (then prepped at The Winchendon School) before joining the River Hawks. He was a 2,000-point scorer at both levels.
Basketball beyond college is a dream, but not a guarantee. Williams has an agent, but there's no assurance he'll get another chance to showcase himself at a pre-draft workout (though the Celtics have been known to call back locals to help fill sessions). He's using the long odds as motivation.
"Growing up, I always wanted to play Division 1 [college basketball], and I got a scholarship to a Division 2 school, so from that point I was kinda playing with a chip on my shoulder," he said. "I just wanted to prove to everyone that I belonged at Division 1. My senior year, we got a bump up, and from there, I played my heart out every night. Now I have the opportunity to continue to play and I'm enjoying it."
The Celtics put Williams through the typical guard rigors of ball-handling drills, but he was there in large part to help facilitate the bigger names -- Capela and Michigan State forward/center Adreian Payne, both potentially available when the Celtics select at No. 17 later this month -- as part of pick-and-roll drills and 3-on-3 action.
Williams laughed when asked about throwing lobs to a pair of 6-10 guys like Capela and Payne (along with fellow draft hopefuls Eric Moreland and Victor Rudd). He pointed out how UMass-Lowell's tallest rotation player topped out at 6-7 this past season.
Williams wasn't overwhelmed by the moment, however. As part of UMass-Lowell's jump to Division 1, the Rivers Hawks opened their season on the road against a Michigan team that ranked seventh in the country at that point.
"Honestly, I got over my jitters this year," he said. "We opened up our season playing against Michigan, at Michigan, so from there, I kinda got my butterflies out, playing Division 1 and playing against great competition. This isn't really too nerve-racking for me, I just try to enjoy it."
Williams said his mother, Shirley, has been most excited about his workout and asked him to swipe some Celtics gear. He recalled how he got to play a Division 4 title game at TD Garden during his time at Avon, but "I didn't play so well. Just the opportunity to be back [in a Celtics facility] and have another go at it, is a dream come true."
Approaching Wednesday's workout with a nothing-to-lose mentality, Williams believes he fared OK. He's hoping he'll get a call back if the Celtics need a body on short notice.
And this time he'll be ready. While he still completed 25 court lengths during the famed "Boston Marathon," he said he ran out of gas at the end.
"I had been working out for a few weeks -- not really too much cardio, as you can tell from the end," Williams said with a smile. "But I've been in the gym, getting shots up and working on my game. But I gotta run track."